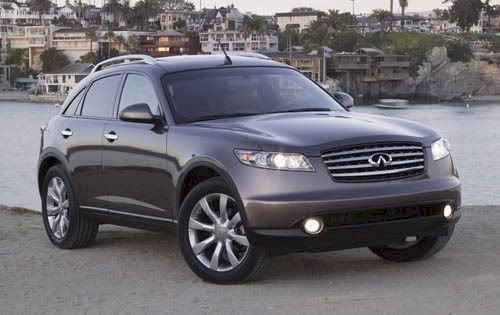 Reports confirm that the next generation of the FX crossover will debut at the Geneva Motor Show but in somewhat, surprising news, the actual debut will take place in a private ceremony outside the show. Occurring during the evening of Tuesday March 4th, Nissan President and CEO Carlos Ghosn is expected to pull the curtain off the FX. Infiniti is a subsidiary of Nissan.
Coming up on the brand's 20th anniversary, this will be the first premiere for the brand outside of the U.S.
The FX will be joined by several Euro-specific performance cars being unveiled at the Swiss show. The vehicles will include the G-Series V6 sedan, G-Series coupe and the EX crossover which will rival the LR Freelander, BMW X3, Audi Q5, Mercedes GLK and the Volvo XC60. All three vehicles including the new FX, will be available across Europe beginning in October 2008, but Infiniti announced that it will enter the UK market in 2009, one of the brands most important markets.
Previous accounts of the Infiniti crossover call for the availability of a V6 or V8 petrol powered engine with a Renault develop V6 diesel option coming out in 2010.
The new FX is also believed to have an optional hybrid power train available, which will have a revolutionary electric motor system to assist petrol engines at low and high speeds. If this is true, this could potentially revolutionise a market segment consistently plagued with negative PR related to fuel efficiency. Nissan's new system would mean cleaner running vehicles in almost any driving situation.
Although a hybrid FX is not expected until 2011, news about it is expected to be released at the unveiling of the 2009 Infiniti FX.
Press release:
A NEW LUXURY BRAND AND AN ALL NEW PERFORMANCE CROSSOVER TO LAUNCH AT THE 78TH INTERNATIONAL GENEVA MOTOR SHOW:
Infiniti and its range of performance sedans, coupes and crossovers has been in existence for almost 20 years. 2008 and the 78th International Geneva Motor Show marks the brand's introduction into Western Europe, the toughest luxury market in the world.
To celebrate this important milestone, Infiniti will use the show timing to stage the global premiere of the second generation of the iconic FX performance crossover. Never before has a new Infiniti been revealed outside of the US.
Infiniti will also unveil the rest of its line-up of performance cars, tailored for the European market: the V6 powered G Sedan, G coupe and EX coupe crossover. This portfolio of products will be launched across Europe, together with the second generation FX, from October 2008.
The V8 powered Infiniti FX will be revealed away from the motor show on the night of Tuesday 4th March 2008 at a private ceremony attended by Mr Carlos Ghosn, President and CEO Nissan Motor Co. Ltd.
Related links
:
Infiniti enters Western Europe
New Car: 2008 Infiniti EX35