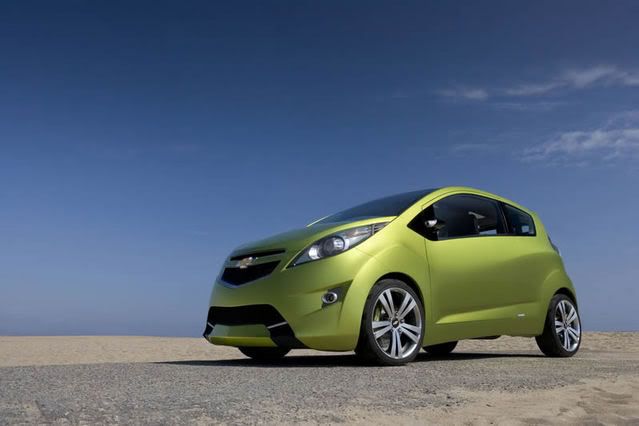 If you were one of the more than 1.8 million voters who pressured General Motors into building the Chevrolet Beat concept, you should be smiling right about now. The automaker said on Wednesday at the 2007 Los Angeles Auto Show that the Beat will hit the market in mid-2009. The bad news is that it likely won't be coming to North America.
The Beat, a Mini Cooper knock-off punctuated by a Vertigo Green paint job, was one of the supermini triplets that made their debut at the 2007 New York Auto Show. It was flanked by the hybrid 4x4 Trax crossover and the retro-styled Groove. At its spring coming-out party, the Beat was described as a micro import tuner and representative of "urban grunge."
"The people have spoken," said Ed Peper, Chevrolet general manager. "The vote count tripled [that of] all previous GM online consumer surveys, telling us the Beat resonated with customers all around the world. Chevrolet was overwhelmed by the positive reaction to each of the 'triplets,' but the Beat was the clear winner."
GM said the "A-class car will initially be targeted to markets outside of the U.S. and Canada." No word yet on critical details about the production Beat, including powertrain specifications or what kind of price it will carry.