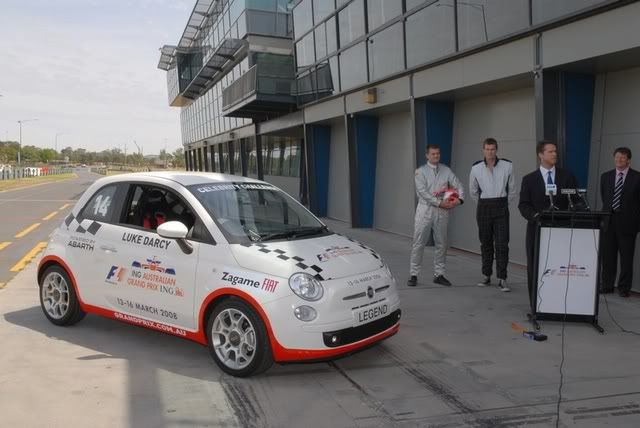 The car that's taking the world by storm – the Fiat 500 - is to be driven in the Celebrity Challenge race at the 2008 FORMULA 1™ ING Australian Grand Prix in Melbourne. The announcement is the latest in a series of innovations unveiled by the Australian Grand Prix Corporation in recent months, all aimed at ensuring the Albert Park event will be the most exciting in its thirteen year history.
"In keeping with our fresh approach to the 2008 Grand Prix there could be no better choice of car for the celebrity race than the Fiat 500," said Drew Ward, CEO of the Australian Grand Prix Corporation.
The car unveiled is the first Fiat 500 to be seen in Australia or New Zealand; the first right hand drive model to be seen anywhere in the world; and the first racing version to be seen anywhere in the world.
"Since its launch just four months ago, this Italian gem has set the motoring world on fire," said Mr Ward. Spectators at next year's Grand Prix will not only get the chance to witness Formula One, the V8 Supercars and a full-on two-hour Kiss concert extravaganza, but now they'll be among the first in the country to see the all-new Fiat 500 in action."
Famous names from Australian sport will be given the honour of racing the vehicle, with a 'Sporting Legends' theme set to inject plenty of competition into next year's Celebrity Challenge. Australian Rules star Luke Darcy and Wallaby speedster Ben Tune were announced today as the latest drivers in the all-star line-up. They join former Collingwood captain Nathan Buckley on the starting grid at the March 13 – 16 event, with plenty more big names to come.
"After so many years of battling it out on the footy field, I can't wait to get behind the wheel at Albert Park to take part in a completely different kind of battle," said Darcy, who enjoyed a 226-game career with the Western Bulldogs. "Now that I've hung the boots up, it's just awesome to be able to have the opportunity to do something like this."
Australian Rugby Union winger Tune, who was famous for his fast finishes on the field, is hoping to earn the same reputation on the race track. "I've always wanted to take part in the Celebrity Challenge," said Tune. "To be given the chance to experience this with so many fantastic sports people is an added bonus. I hope sports fans from every code will come down to Albert Park in March to see us race."
The Fiat 500 is the most sought after car in Europe, having won numerous awards headed by 2008 European Car of the Year. Australian and New Zealand production has already been snapped up for the first three months of supply, even without prices and specs announced.
"With its outstanding advance sales, its unique parentage and cheeky good looks, the new Fiat 500 is already a celebrity in its own right," said David Stone, General Manager for Fiat Cars in Australia. "So it's entirely appropriate that, as Australia's most eagerly awaited new car for 2008, the Fiat 500 should join forces with Australia's top sporting celebrities to present a bright, new, exciting face for the Celebrity Challenge. This will be the first time the new Fiat 500 has taken part in motor sport, recreating another part of the original 500's heritage, and given the huge interest in the new 500 around the world, it will further raise the profile of the Grand Prix as TV viewers tune in to see the spectacle of the new 500 in competition for the first time! The new Fiat 500 is the heart and soul of Fiat. It is both an extremely good looking and stylish small car that is unmistakably a Fiat - full of character and spirit. But at the same time it has the design integrity to blend this with cutting edge technology, creating a new benchmark for safety, fuel economy and low emissions. Just as the original 500 was the standard against which all small cars were judged in the 1950s, so the new 500 is the perfect small car for the 21st century."
FIAT 500 UK pricing
FIAT 500 production expands again
FIAT 500 crash test results
Private importers import FIAT 500 in UK
FIAT 500 production expands
FIAT 500 goes off-road
FIAT 500 Abarth expected in Tokyo
FIAT 500 goes on sale in France & Italy
FIAT 500 commercial shoot pictures