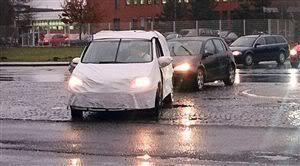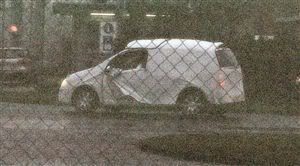 The facelifted Touran has barely been on sale for a year and now, Volkswagen are testing the next Touran which is due in 2009. The new MPV is being rush in because the current Touran and Golf Mk5 is expensive for Volkswagen to build. The Mk6 Golf and Mk2 Touran will solve that issue, with fewer variants and a design optimised to make production quicker and cheaper.
Both the new Golf and Touran are thought to be based on the current platform. While they'll each be updated for the new cars, the silhouettes will remain much the same.
The front of the new Touran should be more shapely though, with sharper Eos-style lights. We also expect the Touran to have a few hints of the Up concept in it, as a company official confirmed that the little family of concepts preview VW's future design language.
As I said before, the engine will remain virtually unchanged but the Touran will get the newly announced seven-speed DSG. Volkswagen claims the extra ratio not only means an increase in acceleration but helps to cut fuel consumption and C02 emisssions by over five percent compared to the six-speed manual. The line-up will look like this:
Petrols - 1.4 TSI 138bhp/162lb ft, 1.6 100bhp/109lb ft
Diesels - 1.9 TDI 88bhp/155lb ft, 1.9 TDI 104bhp/185lb ft, 2.0 TDI 138bhp/236lb ft, 2.0 TDI 168bhp/258lb ft
Expect the new model to have more gizmos and gadgets than before. The current Touran was one of the first models to pioneer 'park assist' – you control the pedals while the car does the wheel-twirling for you. Expect the Touran to offer an updated Park Assist, as well as some of the new technology shown in the Passat CC. Touch-screen sat-nav, lane assist, and 'mobility tyres' that enclose sharp objects while keeping the tyre sealed should although appear, though perhaps not all will be available in th UK.
With the Golf set to be seen this year, expect an official unveiling of the Touran in 2009 at Geneva or Frankfurt. Prices should start at under £15,000.
Related link: