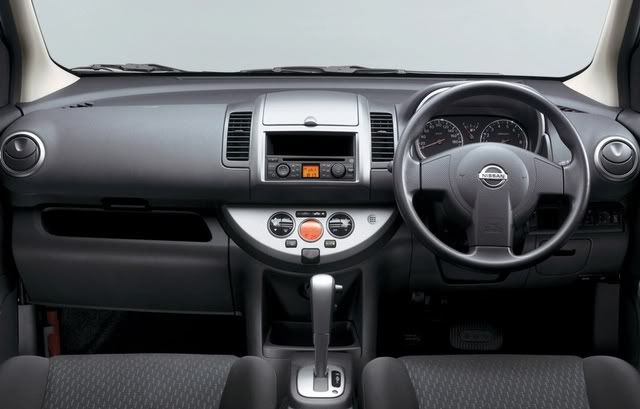 New Nissan Note Debuts With Refreshed Styling and Enhanced Lineup:
Nissan Motor Co., Ltd. today announced that the new Note compact car will go on sale at dealers throughout Japan beginning on January 16. Since the original Note's debut in January 2005, it has garnered customer accolades for its quick acceleration, quiet and comfortable driving manner, comfortable roomy interior and convenient double-decker multi-configurable trunk.
The new 2008 Note features revised exterior styling, enhanced interior appearance and convenience, as well as improvements to the HR15DE engine and XTRONIC CVT, complying with Japan's new JC08 fuel economy and exhaust emission test mode*1. Additionally, the Note lineup has been revised, with a special new "Plus navi HDD" upgrade to some models.
New Note Models and Technology:
Note's strong model lineup includes a value-leading 15RS model, newly added to strengthen the Sporty grade. Additionally 15G, 15G FOUR, 15X and 15X FOUR models are available in a "Plus navi HDD" version, which includes an exclusive HDD-based navigation system with a high-speed, large-capacity 30-gigabyte hard disk drive, wide 7-inch liquid crystal monitor, touch panel, TV, VICS FM multiplex receiver, Music Stocker, iPod® Control*, CD player and electronically tuned AM/FM radio; green-tinted UV-blocking windshield glass with a top shade; and two rear speakers.
Refreshed Exterior Styling:
The 2008 Note features a new front end design, with new headlights, hood, grille and bumper. Additional front end enhancements include a choice of grille finish on the G and X Series Notes – either a body-color or gunmetal metallic finish – or a "smoky chrome" - plated grille on the Sporty Series Note.
Ten exterior colors are available on the 2008 Note, including three new colors – a special Titanium Pearl Metallic Blue Turquoise, Titanium Metallic Frosty Green and Pearl Metallic Amethyst Gray.
An Interior Emphasizing Style And Convenience:
The 2008 Note's interior provides a tasteful ambience while offering convenience for the driver and passengers. Note's new instrument panel styling, with larger openings for the dual ringed meters with the liquid crystal display odometer and twin trip meters with a fuel consumption display function, provides enhanced readability. White-faced gauges are standard on the Sporty Series (15RX and 15RS), as is a genuine leather-wrapped 3-spoke steering wheel with red stitching (standard on 15RX).
Note features a wide variety of convenience equipment, including a standard rear-seat center armrest with two cupholders on the 15G, 15G FOUR, 15RS and 15RX models; standard water-repellent seat fabric that resists dirt and moisture, in a set with a seatback table on the driver's seat on the 15G and 15G FOUR models; standard cold climate package on all 4WD models; and a standard seatbelt reminder system for the driver on all models.
New seat and door trim color packages are offered in Sand Beige, featuring a new color scheme; Black; and Carbon Black with red stitching.
Sporty, Environmentally Responsible Powertrain:
Available with both 2WD and 4WD drivelines, the 2008 Note remains easy to drive, with low fuel consumption and clean emissions. Improvements have been made to the HR15DE 1.5-liter 4-cylinder engine and XTRONIC CVT, which enables all 2WD models to comply with the requirements of the new JC08 fuel economy and exhaust emission test mode*1.
Confirmed on the basis of the recently adopted JC08H + JC08C emissions test mode*1, which better reflects actual driving conditions, 2WD Note models emit 75% fewer nitrogen oxides (NOx) and non-methane hydrocarbons (NMHC) than the levels required under Japan's 2005 exhaust emission regulations. 4WD Note models also attain the same reduced emission levels under the 10-15+11 test mode.
Additionally, due to the adopted JC08 test mode*1, as well as on conventional 10-15 test mode data, fuel economy figures have been realigned for 2WD Note models which more closely matches actual fuel consumption in real-world driving.
Highlights of Note "Plus navi HDD" Enhancements
Package Available on Note models: 15G (2WD 1.5L)
15X (2WD 1.5L)
15G FOUR (4WD 1.5L)
15X FOUR (4WD 1.5L)
Plus navi HDD adds: Exclusive HDD-based navigation system:
Wide 7-inch liquid crystal monitor,
TV
Touch panel
VICS FM multiplex receiver
Music Stocker
iPod® Control*
CD
Electronically tuned AM/FM radio
Green-tinted UV-blocking windshield glass with top shade
Two rear speakers (standard on 15G and 15G FOUR base vehicles)
*iPod is a registered trademark of Apple Computer, Inc. in the U.S. and other countries.
Note Pricing and Sales Targets
Price range: 1,354,500 yen to 1,865,850 yen (including consumption tax)
Sales target: 4,000 units per month
*1 This new fuel economy and exhaust emission test mode will be enforced as a result of revising the ordinances of the Energy Conservation Law and the announced particulars of the safety criteria applied