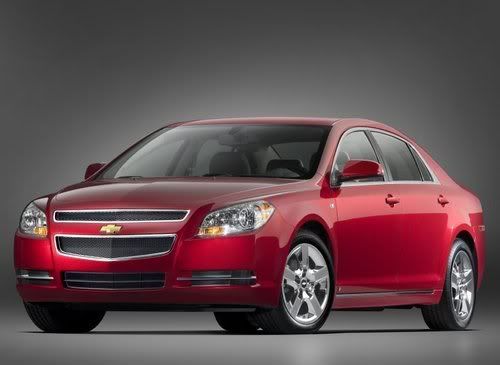 Consumers shopping for a no-frills Chevrolet Malibu will have to shell out $2,100 more for the redesigned 2008 model.Chevy said the base 2008 Malibu will be priced starting at $19,995. Its predecessor, the 2007 Malibu, started at $17,865. An uplevel version of the previous-generation car has been carried over in limited numbers for model-year 2008. Rebadged as the Malibu Classic, its sticker is $20,880.
Chevy said the new Malibu is well equipped in the base version, with standard antilock disc brakes, six airbags, traction control, turn-by-turn navigation, air-conditioning and XM Satellite Radio.
The base and optional engines are bigger and more powerful for '08. Malibu gets a DOHC 2.4-liter four-cylinder rated at 169 horsepower, with an optional 252-hp DOHC 3.6-liter V6 also available. A four-speed automatic transmission is standard on four-cylinder models, while the V6 comes with a six-speed automatic.
Prices range up to $26,995 for the top-of-the-line Malibu LTZ.
A new Malibu Hybrid will carry a sticker of $22,790. It comes equipped with the 2.4-liter four-cylinder with electric assist. The EPA mileage ratings for the hybrid are only slightly higher than for the standard four-cylinder gasoline model — 24 mpg in the city and 32 mpg on the highway for the hybrid versus 22 and 30 for the gasoline.
The Malibu and Malibu Hybrid go on sale in November.