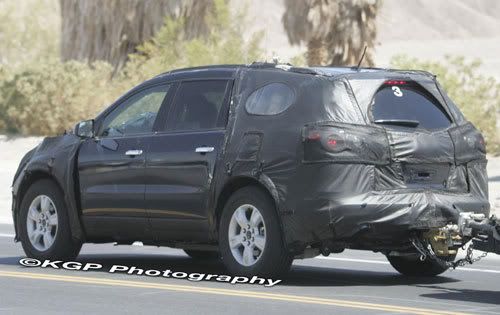 Spying on preproduction prototypes isn't as easy as hiding in the bushes with a big zoom lens on your camera. Sometimes it requires standing in plain sight to get the best shots, a tactic that occasionally leads to some less-than-thrilled engineers.
Such has been the case with the 2009 Chevrolet Traverse, a new midsize crossover headed for Chevy dealers next fall. While shooting the bundled-up prototype in the triple-digit heat of Death Valley, California, our shooter narrowly missed becoming road kill after one engineer "went a little wide" coming out of a parking lot.
Thankfully, our shooter was undeterred, and recovered from the glancing blow quickly enough to catch the Chevrolet Traverse prototype as it drove away. And thanks to his heroic efforts, we can bring you the best shots yet of Chevrolet's upcoming crossover.
There are few surprises in store, as the Chevrolet Traverse is essentially the same crossover under the skin as the Buick Enclave, GMC Acadia and Saturn Outlook. The only significant difference you're likely to see is some revamped sheet metal, which blends the existing bodywork with some styling elements from the new 2008 Chevrolet Malibu.
It appears as though the Traverse will get a chevron-shaped grille similar to the Malibu. A large chrome bar splits through the middle, and we expect a big, gold Chevy bowtie sitting front and center. Although the headlights are fully shrouded in camouflage, we expect them to look similar to those used on the GMC Acadia, with a few unique details thrown in to make the Traverse more easily identifiable.
Shrouds over the taillights make it impossible to peg what kind of styling changes are in store for the rear end. We can only hope Chevrolet goes conservative and stays away from the glitzy aftermarket-style lenses featured by the current Chevrolet Equinox. Then again, the door handles for the Traverse are already chrome, so it could go either way.
GM did a good job of differentiating the cabins of the first three crossovers, but there's only so much that can be done the fourth time around, so don't expect a drastically different setup inside the Traverse. That's not such a bad thing, as the Buick, GMC and Saturn versions are all well laid out, with good, solid controls. Same goes for the drivetrain, as the Traverse will get a 3.6-liter V6 and six-speed automatic just like the others. Front- and all-wheel-drive versions will be offered too.
To see the final production version of the 2009 Chevrolet Traverse, you'll probably have to wait until at least the Los Angeles auto show in November, if not the Detroit auto show in January. By then, Chevrolet's engineers will have calmed down enough to let you take a good, hard look at their latest creation. Until then, you might want to keep your distance.