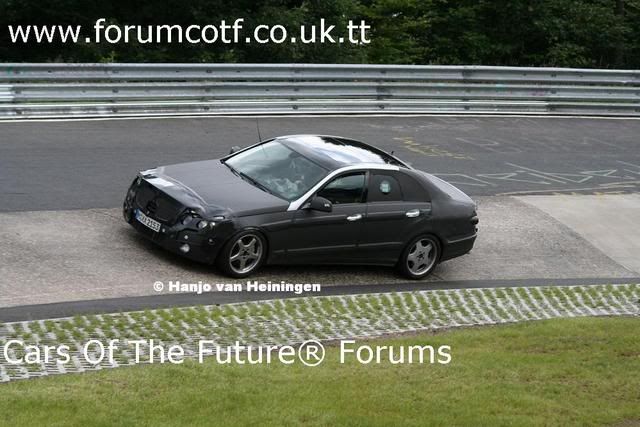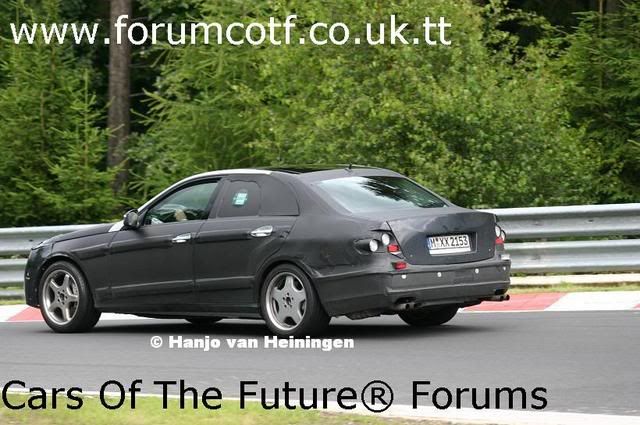 Mercedes is preparing the new generation E-Class code named W 212, for release in mid 2009. Although, there is nothing new to report since our last installment of E 63 AMG spy photos, here are the most recent photos of the heavily disguised prototype. Our latest spy photos show an E-Class AMG prototype hammering around the famous Nurburgring racetrack.

The disguise on the test car is still hiding details of the new styling which feature elements from the just launched C-Class, however, we can see the overall shape resembling the new S-Class.

After considerable quality problems with the current E-Class, Mercedes is now striving hard to increase the quality standard of the new model to its highest possible level.

The next E-Class will offer a wide selection of engines, ranging from 184hp 4-cylinder to a 544hp V8 petrol engines, and 136hp 4-cylinder to 354hp V8 diesels. One can expect the usual V6 and V8-engines, plus a normally aspirated, 500+ HP 6.3-liter V8 for the E 63 by AMG.

Mercedes will abandon SBC in favour of conventional brakes, although they will boast features on all variants such as wet-weather disc wiping and wheel-selective cornering brake control. Optional ceramic-composite discs could be introduced top-down.

The next E-class will copy the S-Class's wheel-arch extensions, rising character line below the door handles, massive bumpers, and greenhouse. A more sculpted wide-frame grille, the more geometric nasal air intakes, and the wedge-shaped profile should give W212 a sportier stance. Actually, early styling models show a certain affinity for the most recent efforts from Lexus - such as the rectangular quad headlamps, the C-pillar treatment, and the taillights. This is, of course, ironic given that the Lexus LS is famous for copying Mercedes, but Stuttgart still has plenty of time to hone the shape.

Driver assistance in general is a major theme for W212. Expect lane-departure warnings, an eye-movement monitor, traffic-sign identification, road-condition sensors, and stability control that accounts for crosswinds, camber changes, and tire wear. We expect the usual V6- and V8-engines, plus a normally aspirated, 500-plus-bhp 6.3-liter V8 for the E63 AMG model.