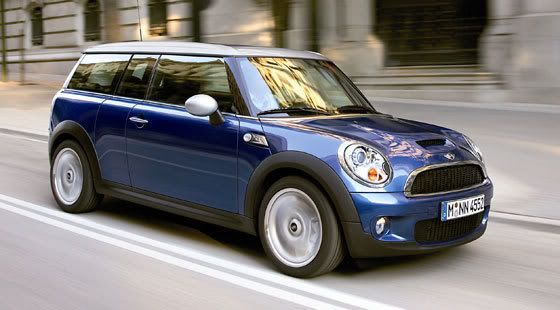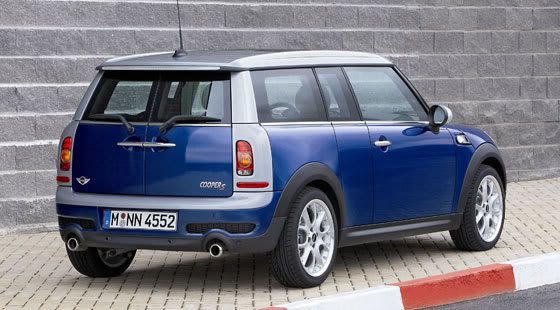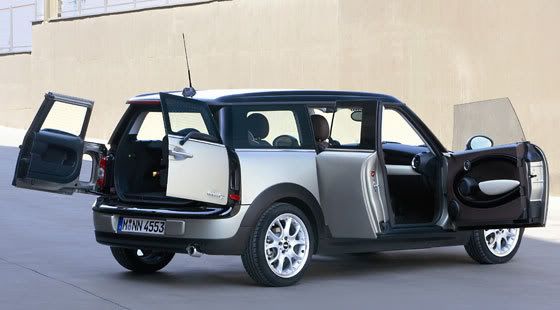 This is the new Mini Clubman and although we've been snapping prototypes testing around the world for a few years, the official photos are still a bit of a shock.
The Clubman will look like nothing else on sale when it's launched on 10 November, though you'll be able to see it at the Frankfurt Motor Show in September.
As this photo shows, the Mini Clubman will have van-style twin rear doors, each with their own wiper and a cut-out that frames the rear light cluster. This avoids the expensive problem that BMW encountered with damping the headlights on the first-gen new Mini.
Indeed it does, but you can just make out the 240mm longer body. And if you look closely you can also see a rear suicide door, as per the Rolls-Royce Phantom and Mazda RX-8. But like the RX-8, and unlike the Rolls, the self-styled Clubdoor can only be opened when the front driver's door is open. This is for safety's sake, apparently.
However, the Clubman has clearly been developed for left-hand drive markets, so the suicide door is on the right-hand side. This means that UK drivers get the short straw and both doors will always open into traffic for any passenger drop-offs. Mini says it couldn't engineer doors on both sides, because of the fuel filler arrangement. A shame.
Like the regular Mini, the Clubman will come in Cooper D (110bhp), Cooper (120bhp) and Cooper S (175bhp) guises. All engines will also come with BMW's brake regeneration and stop/start technology – all aimed at lowering emissions and fuel consumption.
Mini has taken customisation a step further with the Clubman, and whilst you can't have wooden panels (though who would bet against them appearing soon?), the rear pillars are now the same colour as the roof. The roof comes in silver and black as standard, though you can pay for a different colour, but it remains to be seen what hue they pillars will be if you have the Union Jack option.
BMW will charge £1200 more for the Clubman over the hatchback, meaning that the cheapest Clubman is the petrol Cooper costing £14,235; the priciest is the turbocharged Cooper S at £17,210.