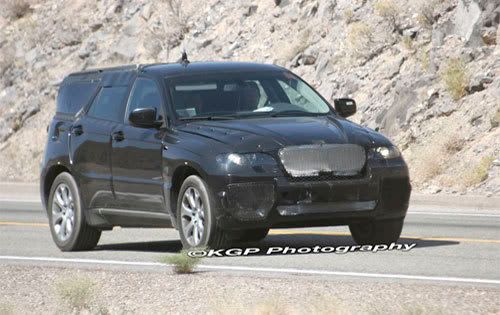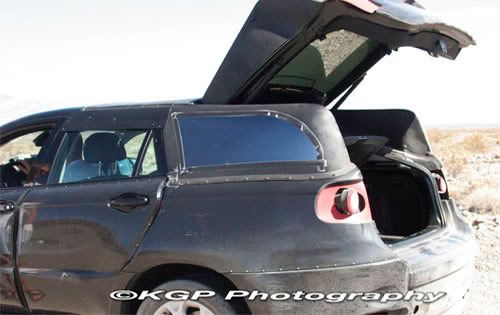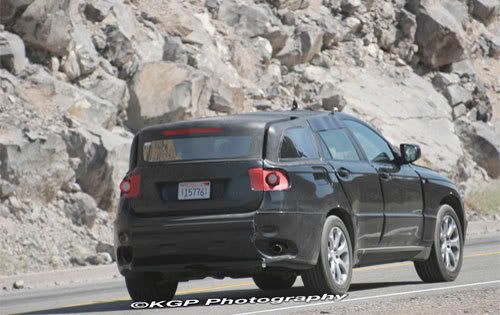 BMW engineers ran into a little trouble in the 128-degree desert heat, when one of its X6 prototypes appeared to become disabled on the shoulder of a desolate California road. As the preoccupied testers prepared to hook up a tow line to its X5 support vehicle, they accidentally left the prototype's rear hatch open, revealing the true shape of the X6's rear quarter panel pillars and tailgate thanks to a timely sequence of drive-by shots.
It is now completely clear exactly how much of the rear camouflage is simply a hard plastic shell. That is to say, most of it. This detail is particularly interesting on the X6, because BMW is applying an aggressive application of the four-door-coupe concept first seen on the Mercedes CLS, to the SUV genre. There have been a number of performance-minded SUVs on offer, but the X6 is taking a unique styling approach which appears to be the most form-over-function SUV design effort seen to date. The roof line begins arching downward after the B-pillar and continues plunging right to the X6's rising waistline. As a result, second-row headroom and rear cargo volume are both severely compromised as seen in the back seat interior photos.

Thanks to the heavy camouflage paneling, it's still hard to get a feel for the X6's overall design, it will take more than an open hatchback to do that. However, it will be interesting to see how BMW stylists can balance the design in a pleasing way, with the heavy SUV front and the slimmed down rear. We're not saying they can't, but we're curious how they're going to pull it off.