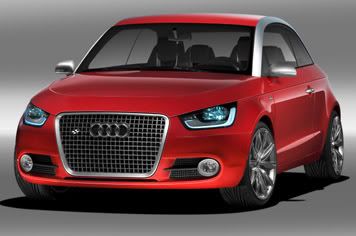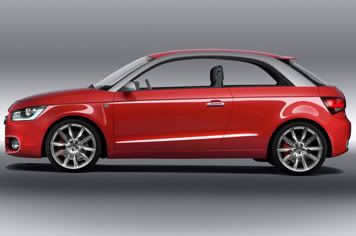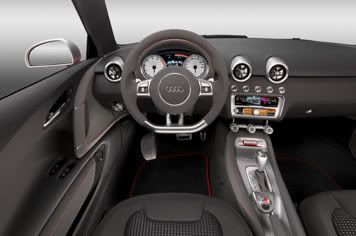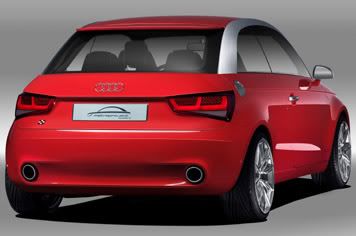 The Audi Metroproject Quattro concept is believed to be the first version of the Audi A1.In an earlier interview, Audi Technical Development chief Michael Dick said the A1 would be "manlier and sportier" than the MINI Cooper and he was right. This car has a smooth, attractive front-end that seems to form a intimidating grin and rear tail-lights that virtually ogle down trailing motorists. This car rides on elegant, lightweight, ten-spoke wheels. Inside the cabin, the Metroproject has remarkably clean lines, what appears to be paddle shifters behind the steering wheel and a built-in MP3 player. On top of everything else, you can apparently keep track of this car's status on your mobile phone!

The Audi Metroproject Quattro has a battery pack in visibly mounted in the boot and lit in soothing blue lights with a charge indicator on the side. We had heard rumor that this concept would be a hybrid and it certainly seems that way.
The A1 should be offered with a turbocharged gas engine, turbocharged diesel engine ranging in size from 1.2 litres to 2.0 litres. A base model with an 80 horsepower, naturally aspirated 1.4 litre engine is also expected to hit showroom floors.
With a base price at or below $25,500, Audi hopes their MINI-killer will sell between 80,000 and 100,000 units per year. Audi has done a great job with the design of this car, that sales of the Fiat 500 might also be affected. Although formerly expected at the Frankfurt show last September, the Audi Metroproject Quattro concept will be exposed to the public in person at 10:30 am Tokyo time on October 24th, at the 40th Tokyo Motor Show. Production on the Audi A1 is planned for 2009.
Dick also said, "When a father sits gladly in his daughter's car, then we've got it spot on."Congratulations, Mr. Dick. We think you have it spot on.