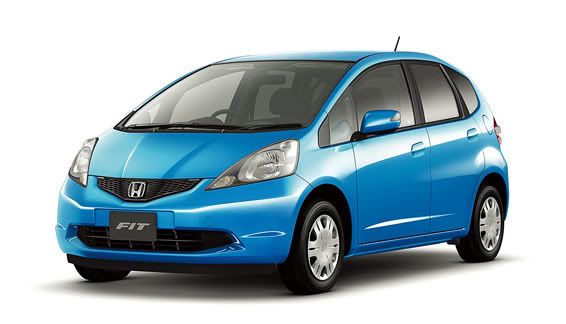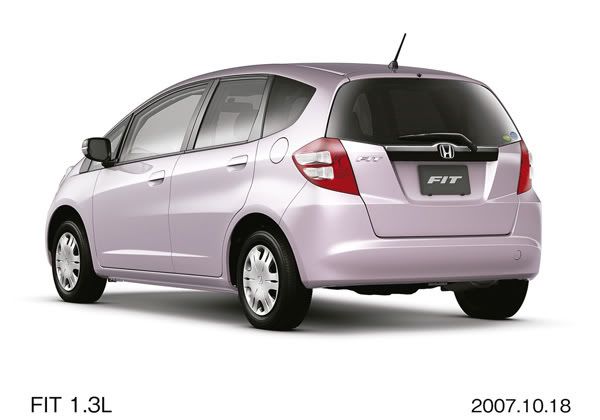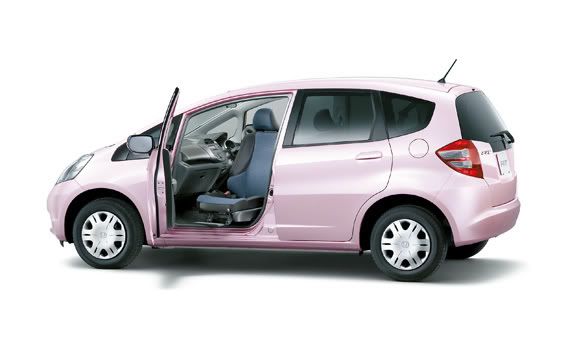 The new Fit will go on sale in Japan on Friday, October 26, 2007. The Fit has gained popularity as a small car that features outstanding packaging, excellent fuel economy, and advanced styling.
The second-generation Fit was developed following the tradition of Honda's man maximum, machine minimum concept with the goal of creating the ideal small car for a new age. To provide values which exceed customer expectations for a small car and to set a new benchmark in the highly competitive small car segment, packaging, utility and driving performance have been further advanced with the all-new Fit.
The packaging of the new Fit is based on Honda's innovative center tank layout, with a longer wheelbase and wider track for enhanced interior space and practicality, combined with the small-car maneuverability of a 4.7-metre minimum turning radius. The front pillar has been moved forward to create a spacious interior, while the exterior boasts exhilarating styling. An ingenious interior layout helped create a comfortable cabin with space equivalent to a mid-sized sedan. The new Fit's practicality has also been enhanced with four-mode "Ultra Seat" and three-mode "Ultra Luggage" storage spaces.
The new Fit's dynamic performance is made possible by a newly developed 1.3-litre i-VTEC engine that delivers maximum output of 73kW (100PS). Combined with a continuously variable transmission (CVT) and newly developed torque converter, the engine provides enjoyable driving and class-leading 24 km/l fuel economy. The body rigidity and crash safety performance were also enhanced while maintaining weight equivalent to the previous model. Moreover, the newly designed chassis also helps achieve superior comfort and steady handling.
Newly added to the Fit lineup is a Road Sailing (RS) version which highlights a sportier and sophisticated character with a newly developed 1.5-liter i-VTEC engine and a specially designed suspension with enhanced styling and a richer feel.
Honda Fit was first introduced in Japan in June 2001. It is now being produced in six factories in five countries and sold in approximately 115 countries around the world, with cumulative sales of more than two million units.
Honda's man maximum, machine minimum concept is a basic approach to car design that calls for maximizing the space available for humans and minimizing the space occupied by mechanical components.
Key features of the new Fit:
Exterior styling:
The exterior styling is intended to express both spaciousness and dynamic motion, with front pillars moved forward for an advanced, super-forward form. The fuel lid dovetails seamlessly with the monoform styling thanks to Honda's first application of a push-lift opener. The door mirrors provide greater visibility with 30% more surface area supported by a compact mount located at the base of the front quarter light. The addition of five new colors brings the total available body colors to twelve.
Packaging:
The center tank layout was carried over from the previous model to help maintain the maneuverability expected of a small car while allowing enhancement of cabin space and practicality. The overall length has been increased 55 mm to 3,900 mm and the width 20 mm to 1,695 mm, while the 1,525 mm height remains the same as the previous model, allowing for use of tower parking.
While the wheelbase has been increased 50 mm to 2,500 mm, the tread size has also been increased to help optimize the steering angle and maintain the minimum turning radius of the previous model at 4.7 metres.
An emergency tire repair kit is provided instead of a spare tire, freeing up 64 litres of storage space beneath the floor. Combined with the space in the luggage room this brings the total available luggage space to an amazing 427 litres.
The rear hatch opening is located 605 mm from the ground, making it easy to load and unload luggage. The rear doors also open to a wide 80° angle, providing even easier access for passengers and facilitating loading and unloading of luggage.
Interior:
The cabin features an ingenious layout with equivalent space as one of Honda's middle-class sedans, providing passengers a natural feeling of comfort.
The large three-meter cluster provides superior visibility with permanent illumination. The speedometer, located in the center of the cluster, features a large LED display providing of a broad range of information, including current fuel economy and range indications.
To ensure a comfortable driving position for all drivers, a tilt and telescopic steering column as well as a ratchet-operated seat height adjuster have been applied.
The front quarter windows are three times of the size of those in the previous model, and the width of the front pillar has been reduced by 20 mm to provide enhanced visibility. A new Sky Roof provides even more sense of space and comfort in the cabin. The power sun shield can be opened and closed with the touch of a switch for a comfortable cabin all year round.
The front seat is based on the seat frame of a middle-class sedan and fitted with springs and padding optimized for seat hold and ride comfort. The rear seats are 20 mm wider, 15 mm deeper and have cushions 10 mm thicker for enhanced ride comfort. The left and right headrests fit into the seat back for easy seat arrangement and 30% better rearward visibilities.
Utility:
The four modes of "Ultra Seat" provide enhanced utility.

Utility mode:
Easy one-motion dive down and release operation of the rear seats. The luggage space can be extended to a maximum length of 1,720 mm thanks to the spacious full-flat floor. The three "Ultra Luggage" modes provide added practicality to Fit's cargo space.
Upper/Lower mode: Lift the flexible luggage board from the floor to separate the luggage space into upper and lower partitions. The net used to create the upper space is perfect for carrying irregularly shaped objects that won't sit flat. The Fit interior is replete with practical utility, starting with 10 cup-holders and a wide range of easy-to-use storage spaces.
A Honda HDD InterNavi navigation system equipped with a 7-inch wide display and a 40GB hard disk is available as a factory option. And with the new Fit Honda introduces two new services to enhance the driving experience of members of the InterNavi Premium Club: New Road Data and Earthquake Information System.
Powertrain:
The new Fit comes with either of two new engines: a 1.3 litre i-VTEC or a 1.5 litre i-VTEC. In addition to the superior low-rpm torque of its predecessors, the new 1.3l i-VTEC brings more power to the high rpm range and delivers enhanced fuel economy in everyday driving. The new four-valve configuration with enhanced intake performance and drive-by-wire technology combine to help achieve a power rating of 73 kW (100PS). The use of only one of the two intake valves at low rpm increases EGR efficiency, helping the Fit achieve a class-leading 24 km per litre fuel economy.
The new 1.5 litre i-VTEC delivers superior fuel economy combined with lively dynamic performance and plentiful torque throughout all speed ranges. Intake valve timing and clearance settings switch to match for low- and high-speed driving and optimized valve overlap in the low-, mid-, and high speed ranges enhances intake and exhaust efficiency for power output of 88 kW (120PS) and superior fuel economy of 19.6 km per litre.
The Fit's continuous variable transmission delivers enhanced drive and off-the-line acceleration thanks to the implementation of a new torque converter. Higher gear ratios also help improve fuel economy by keeping rpms low during cruising. The low-friction, high-efficiency oil pump and pulleys as well as a new creep control system provide optimized creep control at low speeds and during idling for improved fuel economy.
Body:
Body construction and design have been ingeniously modified to improve body rigidity and crash safety performance even while maintaining the same weight as the previous model. Noise and vibration during idling as well as booming noise while cruising are quieter than ever thanks to highly efficient connections of structural members and enhanced body stiffness.
The implementation of sound-absorbing acoustic materials in the roof, carpet, and dashboard insulation contribute both to greater quietness and to lower weight. The RS Type is equipped with special damping and acoustic materials to achieve quietness expected of more expensive vehicles.
Chassis:
The newly designed chassis realizes both superior ride comfort and steady handling. The rigid body and supple suspension provide an exceptional dynamic performance.
The new Fit features a McPherson strut front suspension.
The H-shaped torsion beam rear suspension achieves the maximum possible space for the rear seats and cargo area as well as supple ride comfort and steady handling.
The new electric power steering has more capacity than the previous model, and improvements to steering gear box rigidity and attachment points provide a more direct steering feel.
Safety:
The RS Type comes with Honda's vehicle stability assist (VSA) system, which is the first implementation of VSA with a manual transmission vehicle in this class. In addition, engine torque control and DBW throttle control enable precise control of the vehicle in driving.A side curtain air bag system function with the front seat i-side air bag system to provide added protection against head injuries during side collisions. Honda's Advanced Compatibility Engineering Body provides enhanced self-protection and better compatibility in collisions with other vehicles. Honda pedestrian-injury reduction body design helps protect pedestrians from injury in the event of a collision.
All Fit models are equipped with an electronic brake distribution ABS system plus brake assist functionality as standard equipment. In addition to an ISO FIX child seat bar, tether anchors are provided in both the left and right rear seats as standard equipment.
Environmental:
All types have been certified by the Japanese Ministry of Land, Infrastructure, and Transport as having achieved a 75% reduction with respect to emissions regulations for 2005. All types equipped with CVT exceed Japanese fuel economy standards for 2010 by 20%; G- and L-Type equipped with 4WD as well as RS-Type equipped with 5MT exceed Japanese fuel economy standards for 2010 by 5%; RS-Type equipped with 4WD comply with Japanese fuel economy standards for 2010.
The use of VOCs in the cabin has been reduced to a minimum, and all types comply with indoor density guidelines set out by the Japanese Ministry of Health, Labor and Welfare.
Rotating passenger seat:
A rotating passenger seat is available to take full advantage of Fit's ease of access. Incorporating the same styling, ride comfort, and bolstering as the base model, this exclusive seat has been designed with a specially contoured seat cushion for enhanced ease of access. Oversized bearings help ensure smooth rotation.
295 mm of foot space during rotation—a full 65 mm more than the previous model—has been achieved together with a seat height of 585 mm for enhanced ease of access.
The tip up configuration of the ULTRA SEAT Tall mode enables easy loading and unloading of a wheelchair through the rear seats.