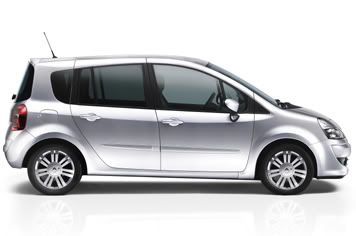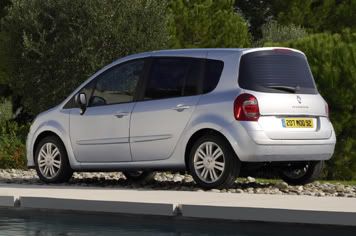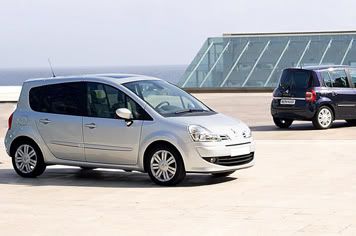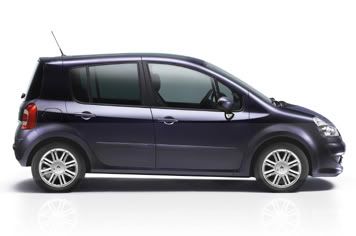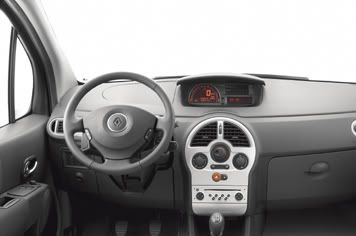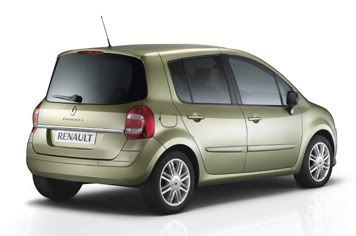 GRAND MODUS - THE MONOSPACE FAMILY GROWS IN SIZE:
Renault takes the wraps of two new, complementary B-segment models: Grand Modus and New Modus. Grand Modus features status-enhancing appeal and harmonious, distinctive looks that elegantly exploit its longer wheelbase (+93mm) and larger quarter-lights, while its overall length of 4,034mm ensures that it packs all the benefits of an MPV. Its boot is amongst the biggest of its category (410dm3 VDA) and its permanent three-seat, sliding, forward-tipping, 60-40 split, rear benchseat, plus its bright, functional cabin and plethora of smart stowage spaces permit Grand Modus to pave the way for a host of family uses. New Modus (3,874mm) combines perfectly-mastered compact dimensions and city car agility with an elegant new design and benchmark comfort. Grand Modus and New Modus will be produced at Valladolid, Spain and will go on sale from early 2008.
Grand Modus; a genuine Renault MPV:

Renault has put all its expertise as a pioneer of the monospace into Grand Modus. With an overall length of 4,034mm, a wheelbase of 2,575mm and its slightly raked rear screen, the new model features expressive, appealing looks redolent of Renault's approach to the MPV. Its expressive headlamps, front bumpers with broader beading and reinforced rear-end protection that blends harmoniously with the bodywork position Grand Modus firmly in the world of MPVs. The chrome beading that runs between the rear lights underpins the width of the hatch, while the larger quarter-lights contribute to the vehicle's large glazed surface area and accentuate the sensation of space when sitting inside the car. Meanwhile, Grand Modus user-friendly drive station combines the advantages of a saloon with those of an MPV and features centrally-positioned instruments that are easy to read for all passengers.

The emphasis on comfort and practicality:

Grand Modus features one of the most generous boot volumes of its category (410dm3 VDA) and represents a gain in this area of practically 50% over Modus (+136dm3). Its modular interior layout is simple to transform thanks to its easy-to-use, sliding, 60-40 split rear benchseat which can be tipped entirely forward, enabling Grand Modus to pave the way for a host of new uses, such as family holidays or a weekend break with friends. Special care has also gone into passenger comfort thanks to its three permanent rear seats and generous cabin space. A large number of stowage spaces are within easy reach of occupants, including under-floor lockers, drawers, aviation-style stowage and an object retention system built into the front passenger seat cushion. Last but by no means least, the availability of top-performing, fuel-efficient powerplants ensures that Grand Modus has all the credentials to become a household's principal car.
New Modus: compact and complementary:
New Modus' perfectly-mastered compact dimensions (length: 3,873mm) and city car agility position New Modus as an ingenious and complementary alternative to the traditional city car. This "minispace" is aimed at customers looking for a vehicle with a high driving position and an effective compromise between exterior dimensions and cabin space. New Modus features elegant new lines and continues to stand out as a benchmark in terms of comfort and practicality, two areas that have made the model so popular with existing Modus owners. Based on the Renault- and Nissan-shared B platform, Grand Modus and New Modus will be produced at Valladolid, Spain and will go on sale from early 2008.