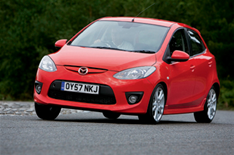 Mazda UK is lobbying its Japanese parent company for a hot version of the new 2 supermini.
Officially there are no plans for a 2 MPS, though Mazda admits such a car could be made that will most likely be based on the three-door when that arrives in March 2008.
Knowing that the UK has a big appetite for small, fast cars, Mazda UK marketing director Mark Cameron is trying to persuade the Japanese firm to build one.
If the car does get built, it would be at least two years before we'd get it, but that doesn't make it any less enticing. The 2's light weight means it wouldn't need a huge amount of power to make it quick. A turbocharged 170bhp version of the 2's 1.5-litre four-pot would do the trick. "Because the 2 is lighter than most superminis, that kind of output would be enough to make it one of the best performing hot hatches on the road," said Cameron.
For the moment, however, we'll just have to imagine the possibilities. Or make do with the standard 1.3 or 1.5-litre petrols, which are joined by a 1.4 diesel in December.