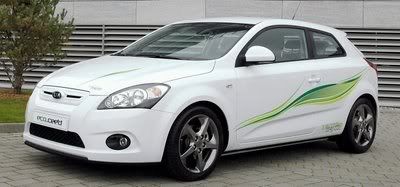 Production of 'eco' cee'd models planned from December 2008
Significantly reduced fuel consumption and lowered emissions
Will meet Euro5 emissions more than two years before requirement
Retains best-in-class 7-Years Warranty and EuroNCAP 5-Star rating
Aerodynamic enhancements cut drag to Cd 0.29:
The impressive performance, fuel economy and emissions figures of the concept car were largely the result of improved aerodynamics which brought the drag coefficient down from Cd 0.33 to just Cd 0.29, representing a significant improvement of 11%. Following extensive wind-tunnel testing, Kia engineers lowered the concept's suspension, fitted under-floor coverings to the front, middle and rear of the vehicle, adopted wheel arch linings with 'spoiler' lips to smooth airflow around the wheels, plus a low-drag front grille to improve air flow over the vehicle. Finally, ultra-low rolling resistance Michelin tyres were mounted on special 17-inch alloy wheels that generate minimum disturbance to the airflow along the sides of the car.
Euro5 emissions, enhanced electronics and reduced engine friction:
Engines for the 'eco' cee'd models will already comply with the Euro5 emissions regulations which come into force in January 2011. Engine changes which will transfer to the 'eco' cee'd range from the concept car include measures to maximise fuel efficiency and reduce emissions, such as reduced turbo boost pressure (diesel models), enhanced fuel injection timing, modified residual gas rates and reductions in internal engine friction.
New ISG (Idle Stop&Go) system:
To maximise the value of the aerodynamic and powertrain improvements, the new 'eco' cee'd models will be fitted with Kia's new ISG (Idle Stop&Go) system, including Smart battery Power Management. This system has regenerative braking, which automatically recharges the battery during deceleration, and switches the engine off when the car is stopped and the engine is at idle, dramatically cutting both fuel consumption and emissions during typical stop-start city driving.
More gears, lower revs, lower consumption:
All the new 'eco' cee'd' models will be fitted with a new six-speed manual gearbox instead of the five-speed used on standard cars. Higher ratios for fourth, fifth and sixth gears will improve fuel consumption at motorway speeds. First, second and third gears retain the standard ratios to ensure that the dynamic performance of the standard car accelerating from standstill is carried over. To further guarantee that the 'eco' cee'd models' engines and transmissions are always operating at high efficiency, an ECU-controlled 'Shift Indicator' will be fitted in the instrument cluster. This displays the optimum gear choice for the speed at which the car is travelling, and indicates the ideal moment (based on road speed and engine speed) at which to change gear.
Customer choices for a greener future:
The new 'eco' cee'd product line-up will include all three regular cee'd body styles – five-door, three-door and wagon – to continue Kia's policy of maximising customer choice. All 'eco' cee'd models will retain the standard cee'd electric power steering, fully independent suspension and all-disc braking system, so the 'eco-friendly' cars will be just as much fun to drive as the regular models.