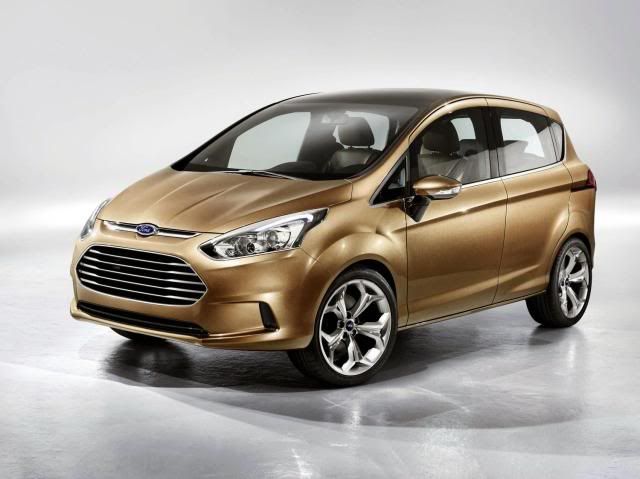 2011 Ford B-Max concept
Ford has recently announced production plans for a brand-new direct-injection, twin independent variable camshaft timing (Ti-VCT), turbocharged 1.0 litre EcoBoost 3-cylinder petrol engine that will first premier on the upcoming B-Max sub-compact MPV, due in mid-2012. Additionally, Ford has also announced a bespoke 8-speed hybrid transmission called 'e-CVT'.
The tiny engine will also power the forthcoming facelifted
Fiesta
supermini, with a distinct possibility of the engine finding its way under the larger
Focus
and C-Max models too.
"In the last five years, we have made a record investment in new powertrains and fuel-saving technologies," said Derrick Kuzak, vice president of Global Product Development. "Today we have the freshest powertrain line-up in the industry. And there is plenty more coming."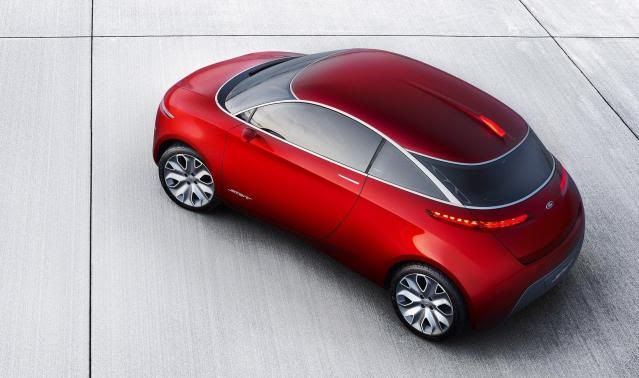 The 1.0 litre EcoBoost originally debuted in the 2010
Start city-car concept. Expect the vehicle to
return upto 80mpg (3.5l/100km) when it
goes into production in 2014
Ford has promised a broad torque curve, with performance on par with the current naturally aspirated 1.6 litre 4-cylinder petrol, which produces 120bhp (122PS/89kW) and 152Nm (112lb-ft) of torque. Despite weighing 10kg (20lbs) less than the larger 1.6, the new mill boasts an integrated cylinder head and exhaust manifold that employs an offset crank for reduced friction. Unsurprisingly, Ford has declared the new three-cylinder with replace "larger four-cylinders" in its powerstation range.
Ford said: "No one has ever built a three-cylinder engine quite like this. It's one of the most technically advanced and efficient engines we've ever designed. The new engine introduces many new technologies that could be part of the DNA of future Ford engines."
The engine was designed at Ford's Dunton Technical Centre in the U.K and show offer hybrid-like emissions and fuel economy.
"Consumers are telling us they want to buy affordable vehicles that get many more miles per gallon," Kuzak. "Our new 1.0 litre EcoBoost engine will give consumers looking for hybrid-like fuel economy a new, more affordable choice."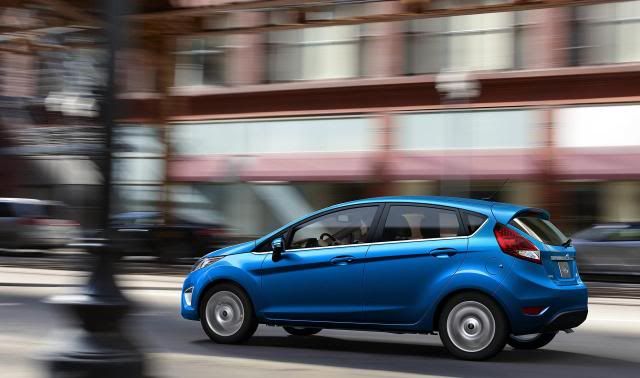 The Fiesta will sport the minute EcoBoost engine
in 2013
Ford has also announced that it is to begin production of a new transmission, specifically for installation in its upcoming hybrid vehicles, later this year. To be manufactured at the Van Dyke plant in Detroit, full production will be under way by the first quarter of 2012. The new transmission replaces a unit currently made in Japan and used today in Ford and Lincoln hybrid vehicles available in North America.
The new hybrid transmission is Ford–designed, Ford-engineered and Ford-built. An electronic continuously variable transmission (e-CVT), the new hybrid unit will offer improved performance over the current unit, with a greater top speed on electric only power and a longer range.
"It's absolutely essential for Ford to further develop its core competencies in engineering electrified powertrains," Kuzak said. With this new transmission and assembly of battery packs at our Rawsonville, Michigan plant, Ford will be positioned well to meet the quality and performance requirement of future electric and hybrid vehicles," Kuzak said.