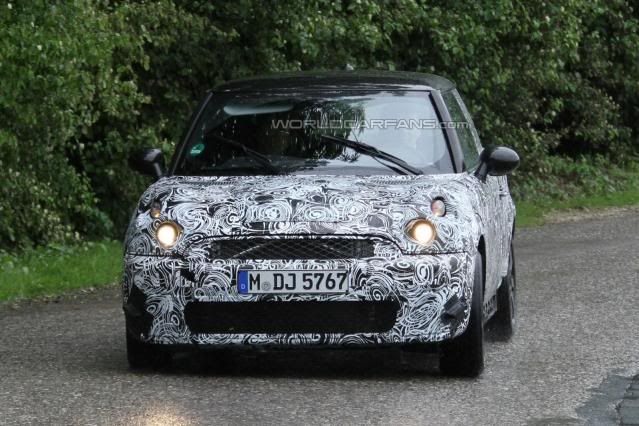 2013 Mini Cooper S
German-based spy photographers have snapped the first ever images of the upcoming Mini Cooper and an unnamed BMW compact, both undergoing chassis testing in Germany.
The 2013 Mk3 Mini appears to be longer and wider than the outgoing model, while retaining the same height. Additionally, the Mini prototype sports slender A-pillars, a longer bonnet, and smaller fascia grilles.
Oh, no centre speedometer! Is Mini slowly becoming
conservative or is BMW cost-cutting?
While the car will continue to be recognisable externally, on the inside, huge alterations will happen. Out goes the fun, curvaceous centrally-mounted speedometer in favour for a conventional instrument cluster, directly in front of the driver.
Powertrains remain a secret, however, we can safely expect a range of fuel-efficient naturally-aspirated and turbocharged engines, including BMW's all-new 1.5 litre 3-cylinder TwinPower diesel engine, which will expel less than 90g/km. Beyond 2013, expect a four-wheel-drive variant of the hatchback.
The new Mini will underpin a brand-new front-wheel-drive platform that will be shared with numerous other models. Which brings us nicely onto the next prototype...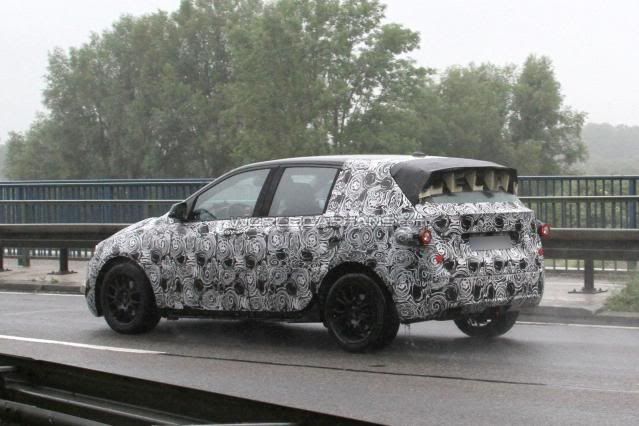 All hell will break lose on the Net if the
upcoming FWD BMW looks anything
like the 2012 1-Series
Caught for the first time is BMW's first-ever front-wheel-drive vehicle, due for production in 2014. The 5dr hatchback will represent an entry-level for the marque, to compete with the future Audi A3 and Mercedes A-Class.
BMW Chairman Norbert Reithofe confirmed the shared FWD platform between MINI and BMW last year in a speech: "For these new vehicles [the new BMW and MINI] we are developing a common architecture for both front and four-wheel drive."
Via
WorldCarFans.com