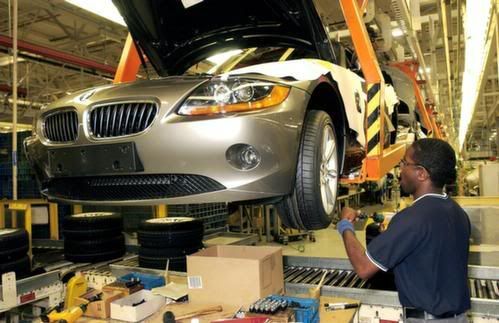 Although nothing has yet been confirmed, Spartanburg Herald-Journal and BMW's suppliers in the Spartanburg area are assured that BMW will move the production of the next generation Z4 to Regensburg, Germany to allow the Spartanburg plant to focus solely on BMW's X-range Sports Activity Vehicles.
BMW's Spartanburg plant, set up in 1995 to produce the Z3 roadster, is reportedly expanding production capacity from 140,000 vehicles per annum to 200,000 units a year. The plant currently produces the X5 and the Z4 and is set to take on the production of the X3 that is currently manufactured at BMW's Magna Steyr plant in Austria next year. 2008 will also see the launch of the X6 Crossover and it is unlikely that the production of the X6 will take place anywhere else than in Spartanburg.
A closer look at BMW's U.S. sales figures reveals as to why BMW is so keen on shifting Z4 production to Europe. In 2007 through July, BMW sold 19,469 units of the new-generation X5 SUV (up 22% over last year) whereas sales of the Z4 have been sluggish (down 17% to 5,420 units). To industry analyst Jim Hall, Vice President, AutoPacific, BMW's shift comes as no surprise, since "the U.S. is a larger market for SUVs than Europe, and they're selling more Z4s in Europe." Bobby Hitt, BMW Manufacturing Corp. spokesman declined to comment the move.