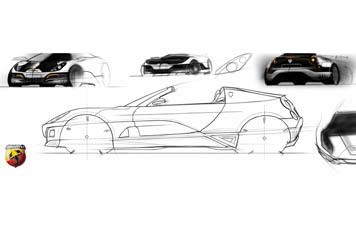 Fiat's plans for reviving the Abarth name could include models unique to the brand, Cars Of The Future® has learned, and specifically a new, small two-seater roadster designed to rival the Mazda MX-5.
According to highly placed Fiat officials, plans are in motion within the firm to resurrect Abarth as a fully fledged sports car brand in its own right, and to develop a compact sporting roadster with which to launch it. In conversation with Cars Of The Future® journalists, Abarth boss Luca De Meo and ex-Fiat marketing chief Steven Norman have both mentioned the possibility of stand alone Abarth cars, and a small roadster in particular.
Potentially based on the 500 platform, such a car would fit perfectly with Fiat's aspirations for the brand and with Abarth's history. It would also dovetail with the brand's intention not to produce a Punto cabrio, as various Fiat officials have mentioned to Cars Of The Future®, as that decision leaves room for an affordable roadster in the group's model range - a successor for the Barchetta, which we also know won't be directly replaced.
The likeliest engine for the Abarth Roadster would be the turbocharged 1.4-litre petrol motor that will serve under the bonnet of the forthcoming 500 Abarth. That offers potential for up to 150bhp.
Abarth produced a series of small, light roadsters and coupes in the 50s and 60s, such as the 205 Vignale. Acclaimed for their looks and performance, the cars helped to establish Abarth as more than just a works race team.
Fiat showed a Punto Abarth at the Geneva motor show earlier this year that had been stripped of its Fiat badging. And although the first round of Abarth-tuned Fiats, starting with the 500 Abarth to be launched at the Tokyo show in October, will retain their Fiat badging, Cars Of The Future® has learned that they could be putting in the ground work for a family of Abarth-only sporting models - possibly hot hatchbacks, roadsters and coupes - based on Fiat mechanicals, but designed from the outset with sporting edge in mind.
A concept for a small Abarth roadster was also shown earlier this year at Geneva, by Italy's IED design institute. Called the SS, it has no official connection with Fiat, but IED has worked closely with Fiat in the past on car design; could it have been operating on an unofficial brief from Turin? Italian industry watchers think it's more than a possibility.
No decisions have been made at Fiat over the future of such a car, but it could go from designer's sketch to production-ready model in a surprisingly short time. By carrying out a lot of the 500 and Bravo development virtually, using computer models, Fiat has taken the two cars from concept to market in under two years. With this experience, it could bring a roadster based on the 500 to market in an equally short time.