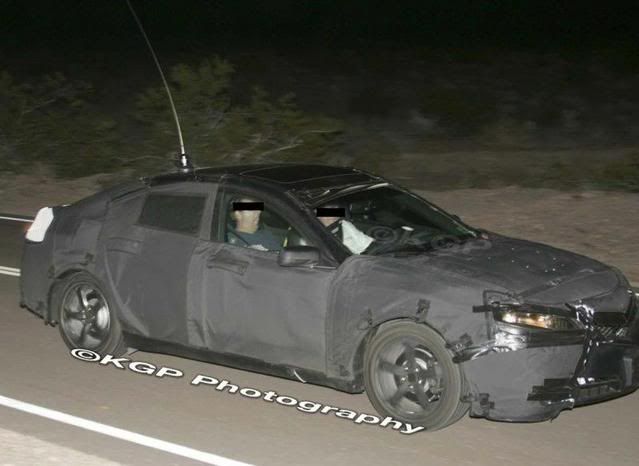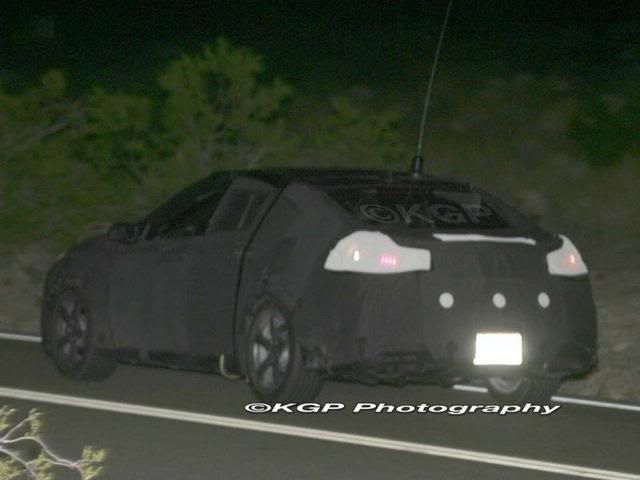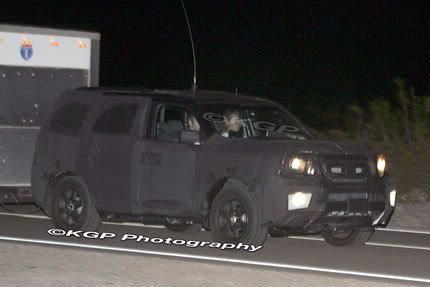 We caught a new Acura sedan prototype night-testing in the California desert. The late-night testing was a pretty grueling affair for all involved, and the yawning test driver caught in our front-¾ shot seemed to agree.

Just which Acura model we're dealing with here isn't exactly clear. Our personal observations of this prototype were limited to spotting a pair of headlights through the camera's viewfinder, tracking it and trying to maintain focus, then freezing the action with the flash. Since we can say that we never really "saw" this car with the naked eye, judging it's size is more difficult than normal daylight situations. It looks like it's quite big in the photos, perhaps even Acura RL, big. But industry sources like Automotive News post that the next RL isn't due until 2010 or 2011, which may be a bit far out for a test such as this. Automotive News reports that both the TL and the TSX are due for redesigns in 2009, which seems more likely to yield finished confirmation prototypes testing out in public, albeit in the inky dark of the desert. With that in mind, the apparent size of this prototype would seem to suggest that this is the new TL.

Regardless of its designation, we can see that the Acura front-end styling cues pioneered on the TL and TSX will be continued, but to an even more dramatic degree. Acura's pointed grille now plunges well down into the front bumper, and the slitty headlights follow a similar angle, looking quite sinister in their execution. The way the camouflage is piled-on above the Acura's mesh grille, we wonder if this new sedan will get a variation of the "shield" found on the latest MDX and also on Acura's wacky Advanced Sedan Concept. The prototype's lower air-intakes resemble those on the TL, but once again they look a bit more aggressive.

Although the prototype was still thoroughly camouflaged, it appears that this new Acura sedan will get a more flowing greenhouse than any current Acura model. The roofline sweeps smoothly from the A-pillar, into a steeply raked C-pillar and backlight. The rear window disguise appears to overemphasize this effect, but the car's silhouette certainly looks to be more fluid than any sedan in the current Acura lineup.

All-wheel-drive is expected to be offered on all Acuras, beginning in 2009, so this prototype is most likely an AWD model. A V8 option may also be in the cards. When questioned about Acura's rumored move away from its current V6-only engine lineup, Hirohide Ikeno, president of Honda R&D Americas Inc. told Automotive News: "That is our direction...I'm pushing for it."
Honda has a reputation among spy photographers for being overly cautious when it comes to test mules. Sure, it will let a bunch of Accords run free a few months before launch, but when it's early in the development cycle, Honda goes to great lengths to keep its prototypes out of the public eye. One common tactic is night testing which may seem to defeat the purpose of being in the desert, but even at midnight temperatures in Death Valley can remain well into triple digits. The cover of darkness didn't deter KGP photography, however, as they managed to snag this photo of the 2009 Honda Pilot on a late night test run which was testing alongside the sedan prototype.
Although its heavily camouflaged, the Pilot prototype wears a familiar look up front and has an overall size similar to the current SUV. Expected to go on sale late next year, this Pilot won't get the often rumored V8 engine that Honda keeps hinting it will build. Instead, expect a slightly more powerful version of the current V6 along with a few other improvements to keep it competitive in this rapidly growing segment.