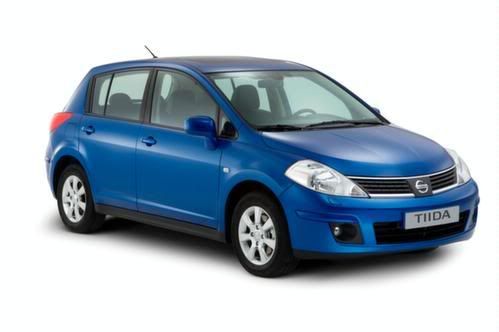 With the gap that's emerged between the discontinued Almera and Primera models, Nissan hopes that its 'Tiida' hot hatch, currently sold in Japan, Australia, Mexico, the U.S. and eastern Europe, will appeal to customers in Western Europe when it goes on sale in January 2008. The 'Tiida', the "ever-changing tide in Japanese, will offer three engines choices: a 1.6 litre petrol (110hp), a 1.8 litre petrol (126hp) and a 1.5dCi (105hp).While Portugal and Spain will only get the five-door version, Nissan will supply the Austrian, Swiss and German markets with both three- and five-door models. The 'Tiida' has been for sale in a number of central and eastern European countries since June and it will be launched in Russia in October.
A Nissan spokesman said annual European sales targets are set to "peak at 40,000 units," with 60% of buyers being previous Nissan owners. The 'Tiida' will be positioned between the medium-sized Qashqai SUV and Nissan's Note minivan.
NISSAN TO EXPAND TIIDA SALES:
· TIIDA to be launched in Germany, Spain, Switzerland, Austria and Portugal
· On sale from January 2008
· Four and five door models, three engines (two petrol, one diesel)
TRAPPES, FRANCE (August 16th, 2007) - Nissan Europe announced today that it will introduce the TIIDA model to a further five markets early next year, following its recent selective European launch.
As from January 2008, Germany, Switzerland and Austria will offer both the four and five door models while Spain and Portugal will launch the five door model. All three engines will be available; a 1.6 litre petrol (110hp), a 1.8 litre petrol (126hp) and a 1.5dCi (105hp).
The latest countries identified were part of the ongoing launch strategy for the TIIDA model in Europe, where Nissan studied market opportunities where there was a concentration of loyal customers of Almera and Primera who may consider purchasing a similar model in the future. Once fully rolled out, the total volume for the model will reach 40,000 units.
"Up to 60 percent of TIIDA customers will have owned a Nissan previously, so by expanding the launch across Europe we are allowing even more customers the opportunity to stay with Nissan for many more years. Equally, we are confident that TIIDA's many strengths will also lead buyers to Nissan for the first time," said Brian Carolin, senior vice president of sales and marketing at Nissan Europe.
TIIDA was launched in the Baltics, Bulgaria, Croatia, Cyprus, Czech Republic, Finland, Greece, Hungary, Ireland, Malta, Poland, Romania, Slovakia and Slovenia since June and will be launched in Russia and Ukraine in October. The model is also sold in many global markets including Japan, the US (Versa) and in Mexico, where all TIIDA models for the European market are built at Nissan's Civac plant.
The name TIIDA is derived from a word in a Japanese dialect meaning 'ever-changing tide' and sits between NOTE and QASHQAI in terms of price. It appeals to the customer looking for a more conventional type of car and places an emphasis on traditional values such as comfort, interior space and ease of use.