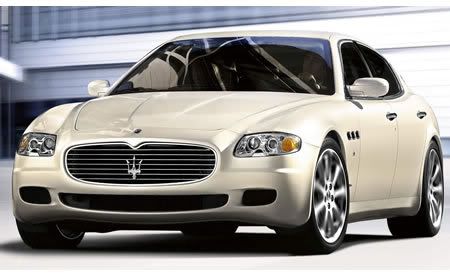 If you were one of the first Brits to take delivery of a Maserati Quattroporte Automatic, it might be wise to schedule a trip to the dealership in the next couple of weeks. That's because the marque is about to recall the first 90 examples of the car sold in the UK in order to rectify a fault that could disable its electronic stability control system.

The Italian brand's problem is with the ECU software that controls the 'Maserati Stability Program (MSP)'. When the car's battery is low, a bug in the software prevents any signals sent by the car's electronic sensors from being received by the ECU. The car's onboard computer then assumes that the sensors are faulty, and disengages the car's traction and stability control systems; its antilock brakes, however, will continue to work.

"If you use your Quattroporte every day, you'll probably never encounter the fault," a company spokesperson told us, "and if you do, it'll go away once you charge the battery and restart the car."

"We'll be informing the affected owners by post in the next few weeks, and they'll be asked to bring their cars back to their nearest service outlet, where a new ECU will be fitted free of charge. The fix should only take a couple of hours."

Maserati was quick to assure us that it had updated its factory stock of ECUs to fix the problem on new-built cars some months ago, so if you buy a Quattroporte Automatic today, you've got nothing to be concerned about. However, it'll be a pretty costly episode for the Trident overall, with 90 cars affected here, 30 affected in Australia, and in excess of 700 in the USA.