GM is teasing the new
Zafira
Tourer Concept. Vauxhall/Opel's design executive Mark Adams is holding an iPad that the
Zafira
hologram is projected out of. The concept will premier at next month's Geneva motorshow.
The image reveals the fascia will be inspired by the
Ampera
range-extending vehicle, as well as the trademark 'blade' appearing on the flanks.
Mark Adams said: "We've applied the lounge concept to a motor vehicle. A lounge is a place you want to escape to and relax, a place where you really want to be. We wanted to offer the same feeling in a monocab and make it the lounge you want to spend time in."
The newcomer won't replace the current
Zafira
as the new
Zafira
will be bigger, more sophisticated, and intended to contend with the Ford Galaxy/S-Max, Renault
Espace
, and Chevrolet Orlando. The outgoing
Zafira
will undergo a comprehensive facelift and remain on sale.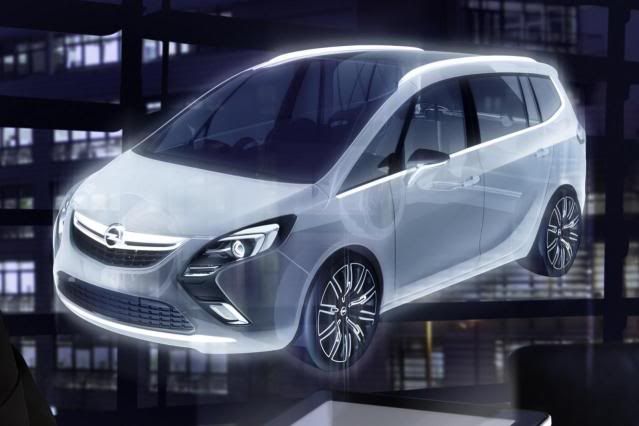 The next
Zafira
will adopt a Flex-7 seat system where the rear-most seats can be folded into the floor independently in a single motion.
Power outputs on the petrol side will range from 120bhp (122PS/89kW) to 180bhp (183PS/134kW). Diesel engines will offer outputs from 110bhp (112PS/82kW) to 160bhp (162PS/119kW).
The new
Zafira
will centre on GM's Delta II platform, but will also be pushed upmarket with a higher sticker price and a quality feel as Vauxhall/Opel plans to detach itself from the Chevrolet Orlando.
The 2012 Vauxhall/Opel
Zafira
is scheduled to debut at the 2011 Frankfurt motorshow.