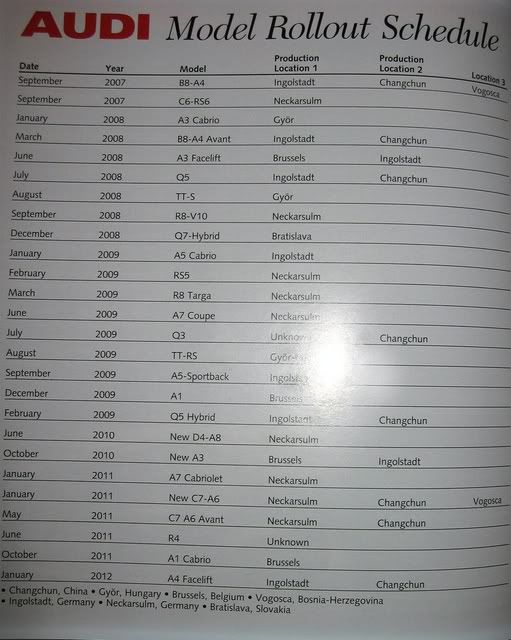 This top-secret document of upcoming Audi models has been leaked onto the internet. The document includes release dates for all the vehicles listed and where they will be built.
2008:
The A3 Cabrio, A4 Avant, A3 facelift and Q5 will be making their way to dealers. In the second half of the year we should be seeing the Audi TT-S, R8 with V10 engine and the Q7 Hybrid.
2009:
As we go through the years, the list becomes more interesting. 2009 kicks off with the Audi A5 Cabrio, followed by flagship Audi RS5 with a possible Detroit debut and R8 Targa which could have a Geneva debut. Later in the year, we can now expect the Audi A7 Coupe which rivals the Mercedes CLS, the Q3 small SUV, a higher spec TT-RS and A5 Sportback. The year ends with the introduction of the brand-new Audi A1 which showed its face as the Metroproject Quattro in Tokyo.
2010:
Audi will take the foot off the pedal in 2010 with only three new models but it will definitely be quality over quantity with the revealing of the new Audi A8 and Q5 Hybrid followed by the new Audi A3.
2011:
Life will be good in 2011 and we expect Audi sales to really go through the roof with the introduction of a brand new Audi A6 & A6 Avant but no A6 based Allroad? The A1 Cabrio is set for release late in the year. But the real news for 2011 the Audi A7 Cabrio and sporty R4, which could be a TT successor.
2012:
Maybe a little too far in the future to really lay down concrete plans but Audi has an A4 facelift in the planning.
The list in short:
September 2007 - B8 A4
September 2007 - C6 RS6
2008:
January 2008 - A3 Cabrio
March 2008 - B8 A4 Avant
June 2008 - A3 Facelift
July 2008 - Q5
August 2008 - TT-S
September 2008 - R8 V10
December 2008 - Q7 Hybrid
2009:
January 2009 - A5 Cabrio
February 2009 - RS5
March 2009 - R8 Targa
June 2009 - A7 Coupe
July 2009 - Q3
August 2009 - TT-RS
September 2009 - A5 Sportback
December 2009 - A1
2010:
February 2010 - Q5 Hybrid
June 2010 - New D4 A8
October 2010 - New A3
2011:
January 2011 - A7 Cabrio
January 2011 - New C7 A6
May 2011 - C7 A6 Avant
June 2011 - R4
October 2011 - A1 Cabrio
2012:
January 2012 - A4 Facelift