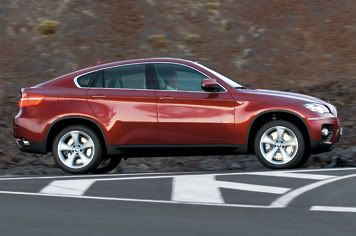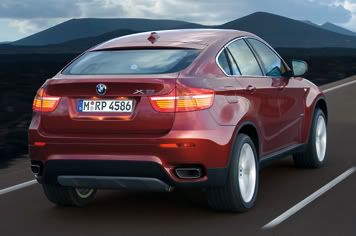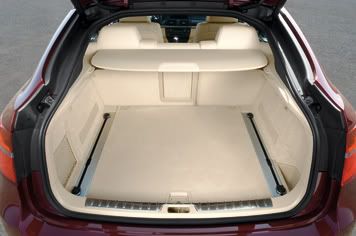 BMW finally decided to unveil the X6 crossover SUV. The X6 will be the firm's first model to be given its new twin-turbocharged 4.4-litre V8 petrol engine when it goes on sale late next spring.
The 90-degree unit, which will power a number of new performance-orientated BMW models in the next 12 months, is billed as a replacement for the company's existing normal aspirated 4.8-litre V8, in a move that underlines an obligation towards engine downsizing from Munich through a mixture of twin stage turbocharging and direct injection.
BMW's new firebrand 4x4: X6 xDrive50i:
Producing 407bhp at 5500rpm along with a extraordinary 443lb ft of torque between 1750rpm and 4500rpm, the blown V8 starring in the BMWs X6 flagship delivers a commendable 40bhp and 81lb ft more than BMW's naturally aspirated V8.
That's enough to launch the X6 flagship model, the 2190kg xDrive50i model from zero to 62mph in just 5.4sec – better than a 650i automatic. Fuel consumption is a claimed 22.6mpg.
Design and dimensions:
Based on the X5's platform, the X6 shares its wheelbase but it's longer by 23mm at 4877mm and wider by 50mm at 1983mm. The slanting roof and a lower ride height make it 86mm lower than the X5, at 1690mm.
Despite the X6's large frontal area and obvious bulk, BMW claims a drag co-efficient of 0.33 – better than a Smart Fortwo, thanks to tricks such as flaps behind the grille that only open when the engine requires extra cooling.
Inside the design and trims draw heavily on the X5. Front seat height is put at a 944mm, with individual rear seats for two passengers. Boot capacity is put at a nominal 570-litre – 70-litres less than the X5, rising to 1450mm with the split fold rear seats lowered.
Target: best-handling 4x4 on the road:
The X6 aims to displace the Porsche Cayenne as the best-handling SUV. Building on the X5's consummate chassis, it comes with BMW's new torque vectoring unit that allows drive to be varied between the front and rear axle's dependent upon traction and between the left and right wheels greater agility improved traction and less steering effort.
Other improvements on the X6 include a 56mm wider rear track for added stability. Six-cylinder models come as standard with steel springs, with the more upmarket V8 riding on air springs.
The rest of the range:
Along with the new twin-turbo V8, the X6 will also be offered with Munich's twin-turbo six-cylinder engine – the 3.0-litre with 306bhp/295lb ft is in at £42,925 xDrive35i.
The mainstream of British sales will come from a pair of 3.0-litre common rail diesels; the twin-turbo 286bhp/428lb ft xDrive35d at £44,135 and the £41,995 235bhp xDrive30d.