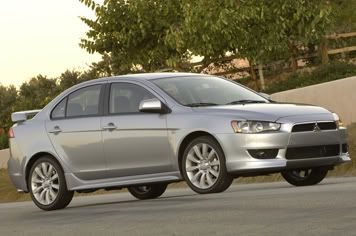 The new Mitsubishi Evo X will be priced from £27,499 when it goes on sale in Spring 2008.
Mitsubishi UK has just released the first official information on pricing of the fast 4x4 saloon which confirms that it will be available in two trim levels and three different states of engine tune.
The cheapest model will be the Lancer Evolution X FQ-300 GS, which gets a five-speed manual gearbox, Super All Wheel Control four-wheel drive, 18in alloys and a CD tuner as standard.
Power comes from Mitsubishi's all-aluminium '4B11' 2.0-litre four-pot and, according to Mitsubishi UK, there will be 290bhp of it, and 300 lb ft of torque, as standard.
If you want more power, Mitsubishi UK will be glad to provide it via engineering specialists HKS, who have developed two engine upgrade packs for the Evo X.
The first is the £30,499 FQ-330, which gets a Drager exhaust, a hybrid filter, a new downpipe and intercooler pipe, a racing suction pipe, an upgraded catalyst and a reprogrammed ECU. The second is the £35,499 FQ-360, which gets another different ECU, a new fuel pump assembly and additional standard items of equipment such as a carbon lip spoiler, a vortex downforce generator, a sports meter kit and premium leather seats with suede inserts. Headline power and torque figures on the faster models will be confirmed nearer to their February launch.
All Evo X models come with a five speed manual gearbox, with the exception of the £31,999 FQ-300 GSR SST, which features Mitsubishi's new six-speed, paddleshift, twin clutch sports shift transmission.
The new Evo X sits at the top of Mitsubishi's all-new Lancer model family, which itself stretches all the way down to the 1.5-litre, £12,499 Lancer GS1 model. Thanks to an injection of improved build quality and style, a broader range of engines and a proper hatchback option, Mitsubishi claims, the car can now be taken seriously as a proper Focus-class contender.
The new Lancer will be available in both four-door saloon and five-door 'sportback' body styles by September next year, the last being the more conventional hatchback model.
The standard range will feature three engines and four trim levels, ranging up to the six-speed 2.0-litre Di-D GS4 model, which gets pan-European sat nav, a 30GB music system, heated leather seats, and VW's 138bhp 2.0-litre turbodiesel engine. 108bhp 1.5-litre petrol and 142bhp 1.8-litre petrol engines will also be available.
While the Evo X will only be available as a saloon, there also an all-new sporting model at the top of the five-door range that promises to compete head-to-head with hot hatches like the VW Golf GTi, Ford Focus ST and Renault Megane R26; it's called the Lancer Ralliart.
Named after the firm's works WRC outfit, this new hot five-door will have a more lightly blown version of the Evo's 2.0-litre petrol engine generating just under 240bhp. It will also have a six-speed SST paddleshift gearbox and full-time four-wheel drive, and the Evo's Active Yaw Control and Active Centre Differential.
Mitsubishi UK has yet to announce a UK price for it, but according to a company source, it will be "competitive with the current market." That should translate as a price tag starting at around £21,000.