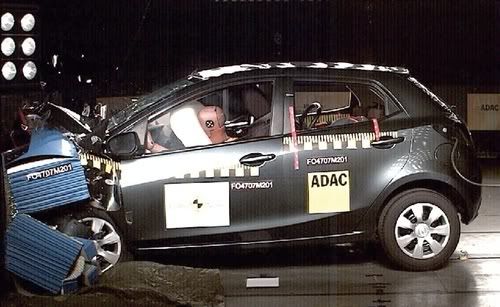 European car safety testing body Euro-NCAP yesterday announced its latest batch of results. They came as great news for Volvo, Mazda, Renault and Mercedes, whose cars were all award five-out-of-five.
Latest versions of the
Volvo V70
,
Mazda2
,
Renault Laguna
and
Mercedes C-Class
all scored five-out-of-five for adult passenger protection.
Combining individual scores for adult passenger, child passenger and pedestrian protection, the
Volvo V70
, emerged safest of all, tallying 91 points. That was in spite of a problem with side airbag deployment on the Volvo which the manufacturer has promised it will recall cars to fix.
The
Mazda2
becomes the eleventh supermini to score five-out-of-five for adult passenger protection, but it ranks second only to the Peugeot 207 once adult passenger protection, child passenger protection and pedestrian protection are factored in. It scored a commendable 89 points overall, to the Peugeot's 91.
A fault with the Mazda's front airbags caused late detonation in its initial tests, but Euro-NCAP agreed to a retest after Mazda fixed the problem, and promised to recall all new Mazda 2's involved and carry out reparation work.
Also tested in the latest batch were the
Daihatsu Materia
and
Honda Civic
which both scored four stars for adult passenger protection.
Mazda2 Press Release:
The all-new Mazda2 supermini has been awarded a 5-Star safety rating in the latest round of Euro NCAP (European New Car Assessment Programme) crash tests.
In terms of occupant protection, the new Mazda2 proved itself to be among the safest cars in the small car segment – earning the maximum 5-Stars for adult protection, plus a class-leading 4-Stars for child protection and a competitive 2-Stars for pedestrian protection.
"This is an excellent result for Mazda2, which is now officially one of the safest small cars," commented Rob Lindley, Managing Director Mazda Motors UK. "Mazda's designers and engineers have demonstrated that lightweight construction, which is so important in cutting fuel consumption and reducing emissions, does not mean having to compromise on strength or safety."
The new Mazda2 weighs under 1,000kg, significantly less than the outgoing model, and its lightweight construction using ultra high-tensile steels, combined with sophisticated aerodynamics, enables the car to achieve reduced CO2 emissions (from 129g/km) and fuel consumption (up to 52.3mpg), while ensuring brisk acceleration and agile handling characteristics.
The three-strong Mazda2 range of petrol models is available in the UK from just £8,499 (on-the-road), with diesel models in showrooms from March 2008.
During the tests of the Mazda 2, a supermini, and the Volvo V70, a large family car, problems were noted with the deployment of both these cars' airbags. In the frontal impact test of the Mazda 2, a small disturbance shortly before impact led to a delay in the firing of the airbags and protection of the front seat occupants was compromised. Although these disturbances are not part of Euro NCAP's tests, they could occur in real life accidents. In the case of the Volvo V70, curtain airbag deployment was delayed in the side pole test.
Both manufacturers took steps to rectify the problems in their vehicles. Mazda improved the airbag control software in production cars and will contact all Mazda 2 owners, to ensure their cars are upgraded. Volvo agreed to modify production cars and to contact all V70 owners. As a result of the commitment shown to modify the cars to the upgraded specification, both Volvo and Mazda were granted re-tests. The results released today are based on these re-tests. During the re-testing, the airbags of the Mazda 2 deployed as expected but, unfortunately, the Volvo V70's curtain airbag again fired late. Volvo is currently investigating this issue. Consumers who are concerned about their own vehicles should contact their local dealer.
Michiel van Ratingen, Secretary General of Euro NCAP 'This is exactly why Euro NCAP exists: to independently evaluate the protection that these cars offer consumers and to spot just this kind of error. If there is a safety problem, we will not re-test the vehicle unless the problem is fixed on all cars.'