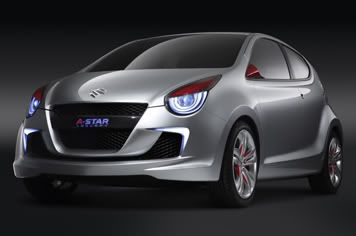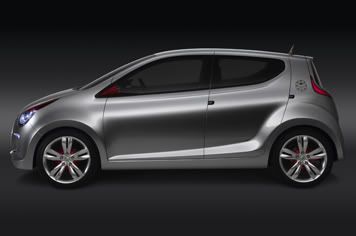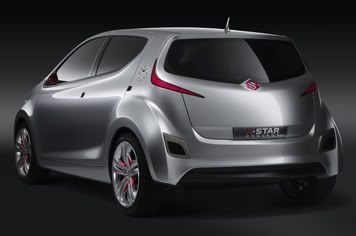 Most of the world's motor industry is spending December gearing up for the Detroit motor show; not Suzuki. One of its largest unveilings of 2008 will have already been revealed by the time the doors of Detroit's Cobo centre open on January 19. Suzuki's debutant will be this – the Suzuki Concept A-Star which was staged at the New Delhi motorshow on the 9th.
The Concept A-Star has been designed to provide a sneak peak at Suzuki's fifth 'world strategic model'. The production car it previews will follow the Swift, Grand Vitara, SX4 and Splash as a car built for the global market. And, says Suzuki, that car will be a five-door A-segment hatchback with a frugal 1.0-litre petrol engine that will be marketed mainly in Europe. In other words, we are about to see the return of the Suzuki Alto.
Judging by these pictures, it should be a better-looking Alto too. The Concept A-Star has a rising belt line, flared wheelarches, some attractive surface language and an expressive 'face'. Expect the finished thing to be slightly calmer-looking but it should share the same primary features, proportions and stance, which is great news for Suzuki.
Suzuki's new city car will be built in India by the Japanese firm's Indian subsidiary Maruti, just like the last Alto. It will go into production in October 2008, so expect the finished road car to be shown at next autumn's Paris salon d'automobile and to go on sale in the UK before the end of next year, priced from around £6500.