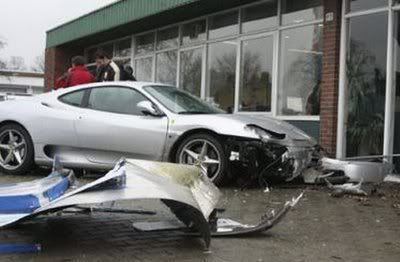 It may be worth taking extra care next time you cross a road or get behind the wheel in Lithuania, Latvia and Estonia as a report out today revealed Europes worst drivers.

Despite the decreasing number of road deaths across the Continent, these countries' burgeoning economies have placed more cars on their roads - putting residents at increased risk of traffic-related deaths.
They top Forbes.com's first-ever ranking of Europe's most dangerous drivers. The list was compiled by calculating the number of road deaths per million inhabitants in 28 European countries, using 2006 data from the European Commission and the International Road Traffic and Accident Database. It gathers data on traffic and road accidents from 28 of 30 member countries of the Organisation for Economic Cooperation and Development, a statistical clearinghouse. Turkey and Mexico are not included. We used provisional 2006 results for 12 countries that have yet to submit final data: Lithuania, Latvia, Estonia, Greece, Cyprus, Iceland, Slovakia, Italy, Ireland, Luxembourg, Finland and Malta.

Central Europe hotspot:

Greece took fourth place, with island neighbour Cyprus only a few places below at number eight. But Central and Eastern Europe dominate the top 10, with Poland, Slovenia, Hungary and the Czech Republic all reporting over 100 road deaths per million inhabitants. There is, however, a big gap between these countries and Lithuania, which reported over 200 fatalities per million. It's not surprising that the three Baltic states have the worst road safety records in Europe. Breakneck economic growth over the past five years has increased consumer spending and put more cars on the road, but without any major improvement to infrastructure or increased awareness of dangerous driving.

"There is a lot of drinking and driving," says Agnia Baranauskaite, a Lithuanian-born analyst for the research firm Eurasia Group, in London. "Because of persistent levels of corruption and bribe taking, most people feel that they can drive drunk, even if they get caught by a policeman." European Commission data released earlier this year found that 23.5% of 2006 road deaths in Estonia were caused by those driving over the limit. For Latvia the figure was 21.7%; for Lithuania it was 14.8%. Baranauskaite says that although governments have been cracking down on drunken driving in capital cities, it is more difficult to enforce the law in smaller towns and rural areas.

More rail needed:

Depending on the severity of the offence, those driving under the influence there may lose their licences and pay hefty fines. The increase in the number of drunken drivers on the roads could also be a result of an overall traffic increase. Since the fall of the Soviet Union, the area has been flooded with foreign investors drawn by an attractive tax environment, says Dr. Friedrich Heinemann, economist with the Centre for European Economic Research, a nonprofit research institute based in Mannheim, Germany. A planned intra-country rail network should ease the situation. The Rail Baltica project is intended to upgrade Soviet-era train links between Poland, Lithuania, Latvia, Estonia and Finland. However, it will not be completed until at least 2014.
In the meantime, the Baltic states could learn from their Western neighbours. These mature European economies with better experience in road safety, traffic coordination and road upkeep have been able to keep their number of fatalities relatively low. France, Germany, the UK and three Scandinavian countries are in the bottom 10 of the rankings, with fewer than 75 road deaths per million inhabitants. This could have something to do with the European Union's goal of cutting annual Continent-wide road deaths by 50%, to 25,000 by 2010. It's supporting its members by circulating and funding road safety and accident data research, enacting motor vehicle legislation to regulate vehicle safety standards, and, most recently, discussing directives on infrastructure safety, says Fred Wegman, managing director of the Institute for Road Safety Research in the Netherlands.

The European Union also held its first 'road safety day' this year, on April 27, to increase awareness of its goal. Although road fatalities are falling, with the EU estimating that 38,600 people were killed on its roads last year (compared with 50,437 in 2001), there is still some way to go before the 25,000 goal is reached. Until then, brace yourself for a bumpy ride in Europe.
Top 12 worst drivers list:
1. Lithuania
2. Latvia
3. Estonia
4. Greece
5. Cyprus
6. Iceland
7. Slovakia
8. Italy
9. Ireland
10. Luxembourg
11. Finland
12. Malta