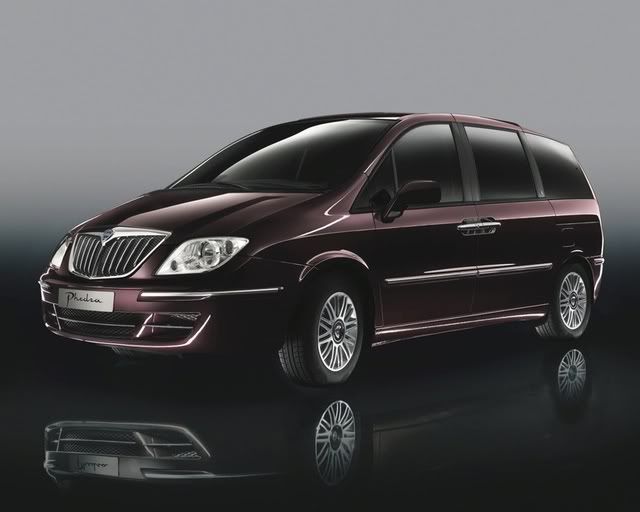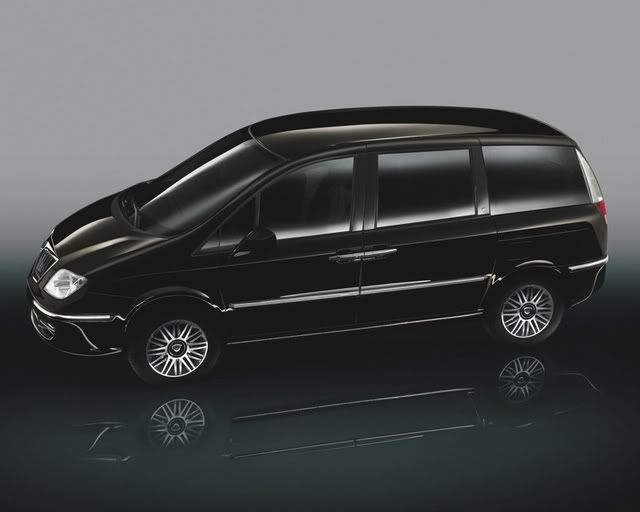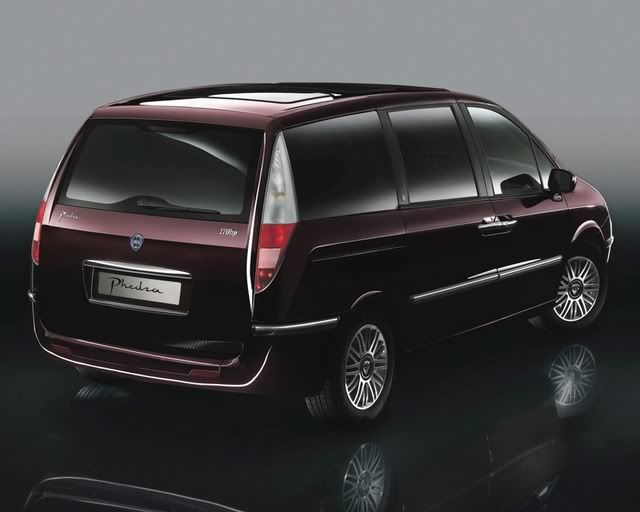 The New 170 HP Phedra 2.2 Multijet presented at the Brussels International Motorshow
New 170 HP engine Revised exterior and interior VIP Service included
Latest generation infotelematics:
From January 17 to 27, 2008, the 86th edition of the Brussels International Motorshow will exhibit what is new in the world of automobiles and motorcycles. Together with the New Musa – recently presented at Frankfurt and Bologna - Lancia will introduce the New Phedra, the best example of the "Italian art of living" now offering revised looks for vehicle exterior and interior, a more comprehensive range and above all a new 2.2 Multijet 170 HP powerplant coupled to a 6-speed manual or automatic transmission (the latter coming on stream next Spring).
Produced as a joint-venture with PSA of France, in line with the mutually beneficial collaboration dating back to 1994, the new model reproposes the generous overall dimensions, i.e. 4.75 length by 1.86 width by 1.75 height, combined with the luxury of an interior carefully planned in the smallest details and provided with a set of safety, comfort and telematics devices placing it right at the top of its class, as confirmed also by the 5-star Euro NCAP award.
Thus, the Nuova Phedra motorist can choose the dimension of mobility, as well as the extent of conviviality. Without, however, renouncing the vision of the automobile as an object of design, precious materials recognizable by feel, quietly relaxing, comfort at hand, driving and riding pleasure. On board the Lancia Phedra one discovers how engineering and performance combine to assure a sensation of wellbeing.
But the outstanding novelty of the new model is the introduction of the brilliant 2.2 Multijet which delivers 170 HP at 4,000 rpm for 370 Nm max. torque starting from as low as 1500 rpm. Excellent performance, also thanks to the sequential-parallel twin-turbo unit providing fast response times right from low revs for high elasticity, driving pleasure and performance.
Coupled to a 6-speed manual, the powerplant propels the Nuova Phedra 2.2 Multijet to 200 km/h max. speed with 0-100 km/h acceleration in 10 seconds (against the 11.4 seconds of the 136 HP 2.0 Multijet for virtually the same fuel consumption). Overall, this outstanding performance makes for high cruising speeds, good acceleration and pickup, with an eye to fuel consumption. Yet again, Nuova Phedra is at top of its class with a perfect balance between style, habitability and comfort (capacity of up to 7 adults) and excellent driving pleasure. Moreover, emission levels are down thanks to the adoption of a DPF particulate filter.
Finally, in some markets it will be available with "Lancia VIP Service", the exclusive mobility package with its mobile shop active 24/7 ready to intervene in the unlikely event of trouble, and at no extra cost for the life of the warranty. Also, the owner no longer has to turn in his vehicle for scheduled service: Lancia provides a taxi service for seamless mobility.
A new style in the tradition of Italian elegance and taste:
A quick look at the Nuova Phedra is all it takes to discover a front end now even more imposing and refined. This is due to the exclusive grill and chromed bumper inserts ideally matching the new Lancia logo. And the same emblem is to be found also on both the side pillar and rear end, paired with the new lettering "Phedra", in smart italics, and with the engine symbol "170 HP": a match wonderfully representing the temperament of the 2.2 Multijet, coupled to the innate class of the Lancia SUV.
The outline of the new Lancia is made even more appealing by the special 16" bi-color alloy rims. And owners may choose from eleven bodywork colors (including the three new metallics now available, i.e. Guercino Grey, Lorenzetti Bordeaux and Florentine Blue, and 5 types of cloth interiors in Alcantara® or leather.
Thus, only a few exterior touches to make the outline of the Nuova Phedra even more refined and distinctive. Inside the vehicle the comfort and style excellence typical of Lancia is all around, as confirmed by the sensation of muffled elegance upon entering. The spacious interior is limousine-like, and the front seats which swivel through 180 degrees facilitate conversation, or work face to face, or an improvised family picnic. Not to mention the feeling of warmth, protection and welcoming of luxurious materials such as Alcantara® or leather which, emphasized by a discreet insert of tanganykan or brazilian rosewood, cover the entire interior with a cocooning effect for the occupants.
Comfort features also include tilting tables on the rear of the seat backs, leather lined grab handles on center pillars (assisting second and third row occupant entry and exit) and drawers under the front seats. Not forgetting the luggage compartment with a capacity of 324 dm3, increasing to almost 3,000 dm3 with rear seats folded.
The Nuova Phedra has a reflex-free dash with two large closed compartments, covered with a combination of PVC for the frontal area and Alcantara® Starlite at top and bottom. Also the seats have been improved. For example, the Argento version has Castiglio (a chocolate color) side trim and cloth (Tex Carbony) Magnesium color cloth (Tex Carbony) center trim. The other two versions , namely Oro and Platino, come with Alcantara® Starlite Blue or two-tone Beige/Chocolate upholstery as standard equipment (a luxurious perforated leather in the same color is available on request).
In short, all the distinction and prestige of a great sedan for the élite, with the flexibility and room of a large SUV: this is the Nuova Phedra. All of which is rendered appealing by Italian class and elegance, recognizable in the most minute details. In fact, the new Lancia model is the right solution for motorists wishing to travel in style, comfort and safety, who are curious, on the move, seeking interesting places to discover and share the experience with others. But without detracting from their exclusive lifestyle, or without giving up the habit of surrounding themselves with beautiful objects which in their category represent the best the market has to offer. Indeed, the Nuova Phedra fits perfectly the concept of "Italian art of living".
Outstanding safety:
Elegant and innovative, Lancia Phedra is also one of the safest models of its segment, having won the coveted five stars of the European New Car Assessment Program (Euro NCAP), which places it at the top of the segment in terms of safety (both active and passive).
This important award is above all the recognition of Lancia's unsparing attention to all aspects of driver and passenger protection, an established part of the design process covering both body and vehicle components, from dash to seats, to occupant restraint systems. For the Nuova Phedra this effort yielded excellent results, as shown by the Euro NCAP award. To attain this goal, designers reviewed all types of possible impacts, including front, side, overturn, rear end and fire hazard. Impact speeds were also taken into account, together with the different types of obstacles and different types of occupants. In-depth evaluation of all these parameters resulted in various technical options which make the Nuova Phedra one of the safest cars of the entire segment.
Total protection, starting with an array of passive safety devices fitted as standard equipment, including dual multi-stage front airbags, two front side airbags, two window airbags protecting side passengers of the three rows of seats. Moreover, the Nuova Phedra incorporates passenger seat sensors (for airbag activation on impact) and visual and audible warning systems for front seat belts. Plus lap-and-diagonals with pretensioners and load limiters (excluding center seat of second row), headrests adjustable for height and rake (front). And the centralized door locking system, as well as the Isofix mounting points for child safety harness, supplemented by grandangle rearview mirror for monitoring rear seats and driver controlled sliding door and rear window lockup. Finally, automatic door lock release and fuel supply cutoff in case of impact.
The Lancia SUV behaviour on the road is always consistent and predictable, is forgiving in case of driver's errors and will help him to pull away from critical situations without trouble. As regards active safety the Nuova Phedra, in addition to a high-performance brake system, boasts leading-edge electronics for dynamic vehicle control during braking and traction.
All versions have ABS and EBD (Electronic Brake force Distribution), a device which adjusts brake pressure to the rear axle to prevent wheel lockup, thereby ensuring that the vehicle is under control at all times and in all conditions. Standard equipment also includes a Brake Assistance Device (BAD) for emergency braking; on cars fitted with ESP the BAD function is electronically controlled by the ABS ECU and is known as HBA (Hydraulic Brake Assistance).
For maximum vehicle control in all circumstances, all Lancia Phedras incorporate ESP (Electronic Stability Program), a device which is designed to cut in in limit conditions, i.e. when vehicle stability is at risk, helping the driver to resume full control. Moreover, the new model is equipped with ASR (Anti-Slip Regulation), a device designed to control driving wheel spin on low-adhesion road surfaces. This automatic traction control system operates regardless of speed to adjust torque in relation to the coefficient of wheel adhesion. When changing down suddenly from a higher gear in low-adhesion conditions, the MSR (Motor Schleppmoment Regelung) cuts in to increase engine torque, thereby avoiding wheel skidding due to lock-up. A comprehensive package aimed at improving safety when the Nuova Phedra is on the move. To govern these devices, an ECU-driven 'intelligent central nervous system' was purpose-designed to process signals received from sensors located around the vehicle and react accordingly.
Last but not least, the highly effective brake system of the Nuova Phedra ensures prompt and progressive vehicle deceleration and reduced stopping distances. On sudden, prolonged braking, the automatic emergency warning system cuts in turning on the hazard warning lights to promptly alert the following drivers. Some versions also incorporate headlamp washers, cruise control, Xenon lamps (standard on the Platino) rain sensor, park sensors, auto. external lights activation sensor and deflated tire sensor.
The range:
The range includes three outfits, namely Argento, Oro and Platino, three turbodiesel powerplants and three seating configurations, i.e. standard five-seat, optional six- and seven-seat (for Italy seven-seat standard, six-seat optional). There are eleven bodywork colors to choose from and five for the interior, namely Castiglio/cloth, Alcantara® Starlite and perforated leather (optional), for a total of up to 52 combinations for utmost personalization, for the most demanding of motorists.
This sophisticated SUV can be supplied with either of three turbodiesel common rail powerplants, i.e. the 2.0 Multijet (120 HP), the 2.0 Multijet (136 HP) with particulate filter and the brand new 2.2 Multijet (170 HP) also with particulate filter, all coupled to a manual transmission (the 170 HP version is also available with a 6-speed automatic transmission), for maximum performance, quiet running, ride comfort and fuel efficiency.
With minor changes depending on market, the three versions come with an extremely plentiful array of standard accessories. First level Argento has 16" wheel rims and heated, defrost, power rear view mirrors on the outside, and zone auto. air conditioning system, car radio with CD reader and Mp3 file, trip computer, hydraulic power steering, second seat row curtains and tinted glass windows (power operated front and rear) on the inside. Standard safety features include ABS, ESP, 6 airbags, headlamp beam adjust and luggage restraint net.
In addition to the above, the Nuova Phedra Oro has Privacy glazing, third seat row curtains, 16" alloy wheel rims, cruise control, pivoting seats and park sensors.
The welcoming, smart interior of the Nuova Phedra Platino incorporates extra refinements which point to the care and attention paid by Lancia in order to pamper the motorist. In addition to the features of the Oro version, the Platino has heated and power-operated front seats, rain sensor and auto. external lights activation sensor, Xenon headlamps, headlamp washers, electrochromic interior rear view mirror and leather lined steering wheel and gear control.
Nuova Phedra owners will be able to personalize their car choosing from a comprehensive range of optionals including lift and roll alarm, power-operated side doors and triple sunroof. The Nuova Phedra can also be provided with Bluetooth hands-free telephone and an innovative sat-nav system. The telephone system makes for maximum driving safety, enabling conversation even with the bluetooth mobile in a jacket pocket or briefcase, automatically muting the car radio (if switched on) and using the stereo speakers to listen. Another optional feature of the Nuova Phedra is the innovative sat-nav system comprising car radio RDS with CD reader, GSM dual band hands-off phone, voice controls for radio and phone, map-based dynamic navigation through 7", 16/9 color display. The device comes with a high-capacity hard disk (10 GB) with which to save up to 180 hours of music files, a map of Europe, 3D Navteq maps, route calculation options, hands-free GSM (by inserting SIM in navigator) and video viewing during stops.