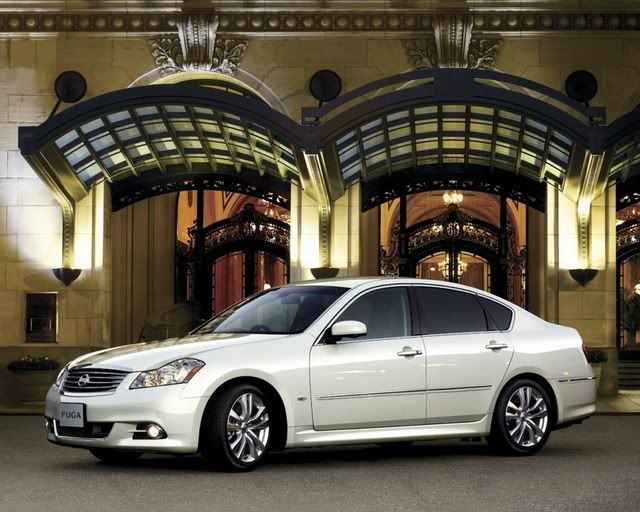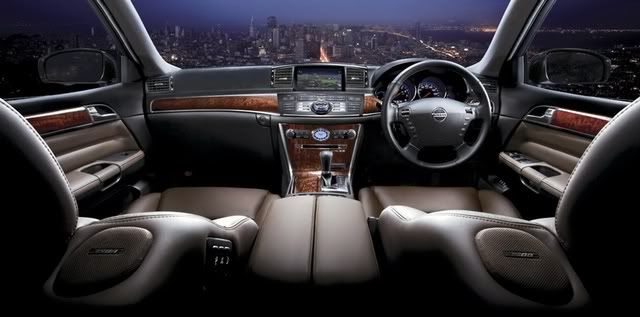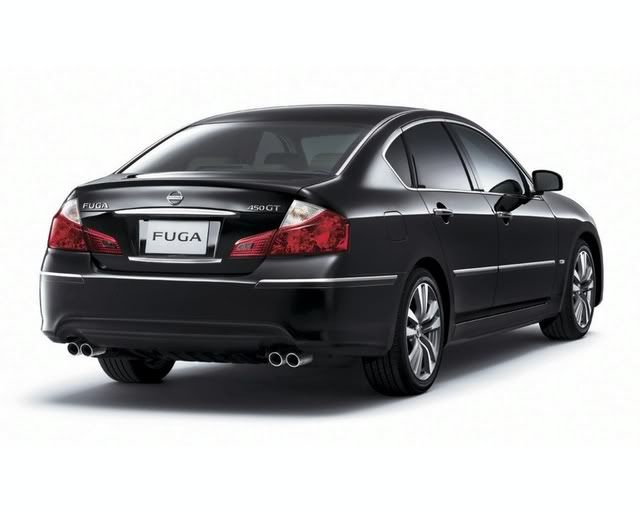 Nissan Motor Co., Ltd. today announced the release of the new Fuga luxury sedan, which went on sale at dealers across Japan today. Since its debut in 2004, the Fuga has been highly praised by customers for its exceptional performance, class-leading interior roominess and a variety of luxurious interior trim options. The new Fuga takes each attribute to a new and higher level.
The new Fuga features a revised model lineup, a redesigned exterior and interior, Nissan's new VQ35HR and VQ25HR engines and the world's first*1 Distance Control Assist (Intelligent Pedal) System*2, among other refinements, the combination of which further advances the car's all-around qualities as a premium sports sedan.
Living up to its marketing tagline of "SHIFT_luxury," Fuga transforms the traditional notion of a luxury car. Fuga is available in three grades (GT, GT Type S and GT Type P) for three engine variations (V6 2.5-liter, V6 3.6-liter and V8 4.5-liter). 4WD version is available for 350GT.
A Redesigned Exterior With Substantial Presence:
The new Fuga announces its substantial presence and premium class image with a new "look" featuring redesigned headlights, grille, front and rear bumpers and rear combination lamps. Making even more of a statement is the GT Type S model, with an exterior styling package that includes new side sill spoilers and a "smoky chrome" finish to the inside of the headlights.
New wheel and tire packages add to the sporty look of the new Fuga, with new 18-inch aluminum wheels standard on the 450GT Type P, 450GT, 350GT, 250GT and 350GT FOUR models, and new 19-inch aluminum wheels standard on the GT Type S model.
Seven body colors are available on the Fuga, including five all-new colors - Crystal White Pearl, with three coats of pearl paint; metallic Blade Silver; a pearl metallic Stratosphere Blue; a metallic Warm Satin Silver; and a titanium metallic Titanium Gray. Nissan's advanced "Scratch Shield" – a special "self-healing" clearcoat paint treatment – is also available on three colors - Super Black, Stratosphere Blue and Titanium Gray.
A Luxurious, Detailed Interior:
Fuga's interior has been revised to enhance the feelings of luxury and craftsmanship, with special attention paid to the interior materials and details of all controls and trim panels.
Improvements include new three-dimensional instrument dials with white and blue violet illumination, new bubinga wood and grain pattern of the genuine wood finishers (from rosewood), the addition of pure silver accents to the piano-black interior finisher trim, new billet aluminum center stack control switches, new rear seat fabric and a new full-automatic air-conditioning system with a Plasma Cluster Ion® anti-bacterial function*3.
A top-grade option on the new Fuga is a new semi-aniline genuine leather interior trim package featuring the finest grade of leather. This new package includes semi-aniline genuine leather seats, hand-polished genuine wood trim finishers with a rare grain pattern, genuine leather-wrapped steering wheel and shift lever knob, and a suede-like headliner. Additional comfort is provided by a front passenger seat with a power ottoman (standard on all models except for 250GT and 350GT FOUR) and power reclining rear seats (standard on GT Type P).
A Responsive Driveline:
Fuga showcases the latest in Nissan engine technology with its choice of 3.5-liter VQ35HR and 2.5-liter VQ25HR engines, which combine high levels of power and torque with low fuel consumption, as well as producing sounds that befit its position as a sports luxury machine.
Both powerplants are backed by a standard full-range electronically controlled 5-speed automatic transmission with a DS mode. The DS mode works to provide maximum performance by optimizing gear selection for the applicable driving conditions. Additional control is available through magnesium paddle shifters, which are standard on the GT Type S model. (4.5-liter VK45DE engine is also available for 2WD models.)
Advanced Technology:
Fuga is one of Nissan's most technologically advanced vehicles, and the new Fuga carries forward that reputation. Standard on all models is an HDD-based CARWINGS navigation system, along with a standard side blind-spot monitor and back-view monitor. Also available is a factory-installed Bose® surround sound audio system.
The highlight of the new Fuga's technology is the adoption of the world's first Distance Control Assist (Intelligent Pedal) System, which is standard on the 450GT Type P/Type S and 350GT Type P and optional on the other models. Using an accelerator pedal actuator, this system assists drivers in controlling the distance between their car and the vehicle in front, reducing the driver's workload in a variety of driving situations - from city driving to expressway cruising.
Also available is a revised Intelligent Cruise Control system incorporating "all-speed following capability" and the world's first "navigation-cooperative control function," standard on the 450GT Type P/Type S, 450GT and 350GT Type P, and optional on other models. This system has the capability of stopping the Fuga when the vehicle in front comes to a stop, and can control vehicle speed from a standing start to approximately 100 km/h (the previous system had a range of 5 km/h to 100 km/h). Additionally, the new system features a "navigation-cooperative control function" that assists in controlling the Fuga's speed according to the reading of an upcoming curve in the road.
All of these technological features combine to provide a more comfortable driving experience for Fuga owners.
Sales target : 620 units per month
Price range : 3,969,000yen to 6,279,000yen
*1 As of December 2007.
*2 Based on information obtained with a radar sensor installed in the front bumper, this system controls the brakes according to the distance to the vehicle ahead and the relative speed of the two cars. If the driver is pressing the accelerator pedal at the time, the accelerator pedal actuator generates force to push the pedal upwards, helping the driver switch to the brake pedal.
*3 This product incorporates Sharp Corporation's Plasmacluster technology. Plasmacluster and Plasmacluster Ion are registered trademarks of Sharp Corporation.