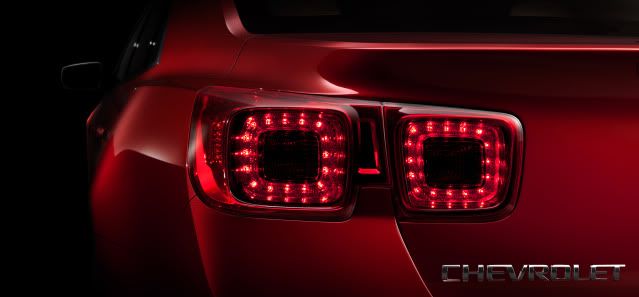 Updated - 09/04/11
Shanghai will see the launch of the upcoming Chevrolet Malibu, however, the firm will also present the finished product on Facebook.
The brand has released a teaser picture – showing the rear LED tail-lights - and video showing the exterior designer playing around with a hologram.
The Malibu will replace the ill-fated Epica in the
European and Australian market
The 2012 Malibu will be a global car, going on sale in Europe, Asia, South America, Australia, and North America. Underpinning the Epsilon structure, U.S models will be powered by a 180bhp (178PS/134kW) 2.4 litre and a 3.0 litre V6, developing 260bhp (256PS/194kW). A mid-hybrid will also be offered. European models will be equipped with a range of 4-cylinder and 6-cylinder petrol and diesel units, linked to manual and automatic transmissions.
The interior will receive a major overhaul with more soft-touch materials being used.
Malibu exterior designer, Dan Gifford
Teaser video: