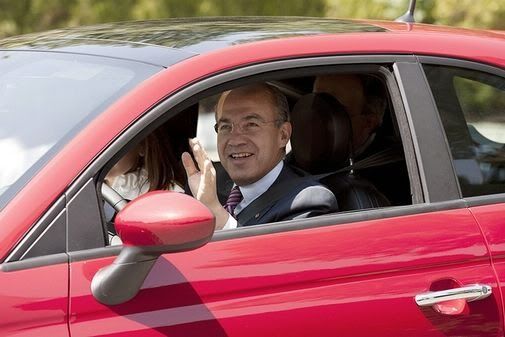 Mexico's president Felipe Calderon driving a 2012 Fiat
500 with Fiat S.p.A CEO Sergio Marchionne sitting
at in the rear
Photo: Bloomberg
Today saw Fiat S.p.A launch the production of the 2012
500
city-car in Toluca, Mexico, where the car is being production. The launch party was attended by the countries president, Felipe Calderon and Chrysler LLC CEO Sergio Marchionne.
The firm invested around $550m, with the help from the Mexican Government, via loans just to produce the city-car. The facility is expected to produce over 120,000 units to export into the Canadian, American, and South American market, in addition to the Chinese market by Autumn 2011.
"With the assistance of the Mexican government, we have been able to prepare the Toluca Assembly Plant for production of the first Fiat, a vehicle that demonstrates the level of cooperation between our two companies and reintroduces the brand to the North American market after more than 28 years," said Marchionne.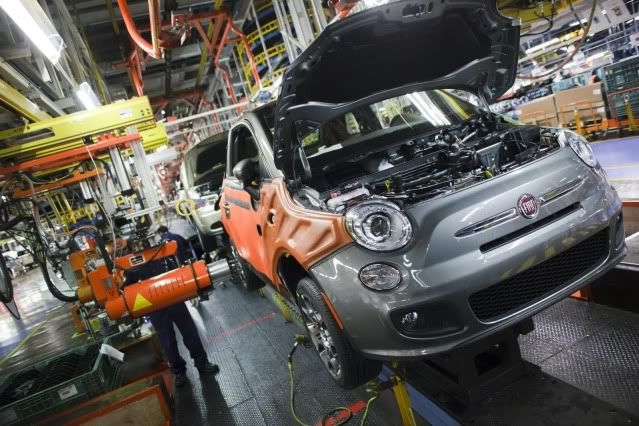 Marchionne added: "Mexico is in an ideal position for production of this car. Because of its free-trade agreements with neighbours to both the north and south, it is a bridge between NAFTA and Latin America. And for the Mexican market, where the
500
has already been sold for several years, this marks an important shift from a vehicle imported from Europe to one that is built locally."
The CEO also revealed the manufacturer is looking to built an undisclosed second model.
"We need to decide what we're going to do with that plant," Marchionne said. "The likelihood is that we will bring in an architecture that is more versatile and will give us an opportunity to produce more than one top hat or body style. Nothing has been decided."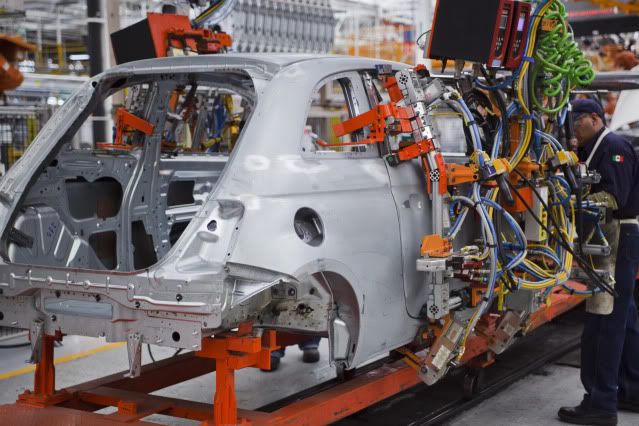 Chrysler is exploring using its Saltillo, Mexico, plant to build commercial vehicles, Marchionne said. Chrysler is talking to local government officials about it, he said. While it's too early to say what kind of investment would be needed to bring commercial vehicles to Mexico, Marchionne said it would be at least as much as was spent on the
500
.