Nissan has debuted the Esflow electric sports-car concept at the Geneva motor show. The Esflow is pinned on a individual rear-wheel-drive platform and features components from the
LEAF
EV. The concept is expect to hint at a forthcoming production model.
Duo electric motors powered the rear-wheels, which allow for a 0 – 62mph (100km/h) time of 5 seconds. The lithium-ion battery pack allows for a range of 150 miles (240km).
The Esflow concept chassis is made from aluminium. Nissan claims "it has been built around the drivetrain, taking full advantage of the opportunities electric propulsion provides". That roughly translates to equal weight distribution due the the battery pack being fitted on the axis of the front & rear wheels.
"Unlike a conventional fuel tank, batteries do not get lighter as they provide energy, so the car's weight distribution remains constant throughout a drive," said Nissan.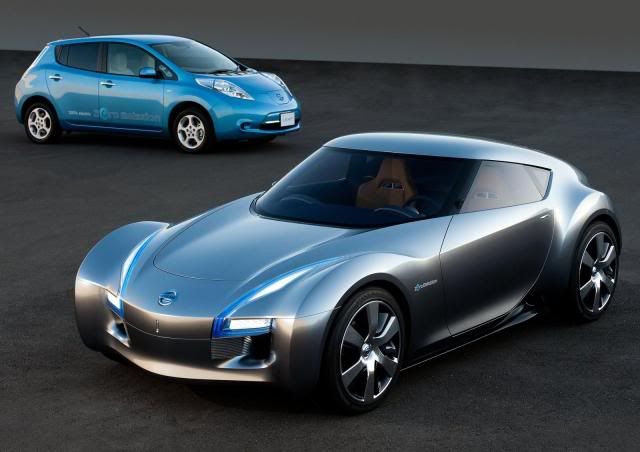 With a slender silhouette, 6 spoke alloy wheels w/blue carbon accents, sky blue tinted headlights w/LED day-time running lights, and rear-view cameras all feature.
Inside, weight-saving technology has been used. The Esflow seats are sculpted into the rear bulkhead of the car, negating the need for a heavy frame. This of course means that they are immobile, but this is of no consequence as the fly-by-wire steering and pedals adjust electrically to the best spot to suit each individual driver's size and preferred driving position.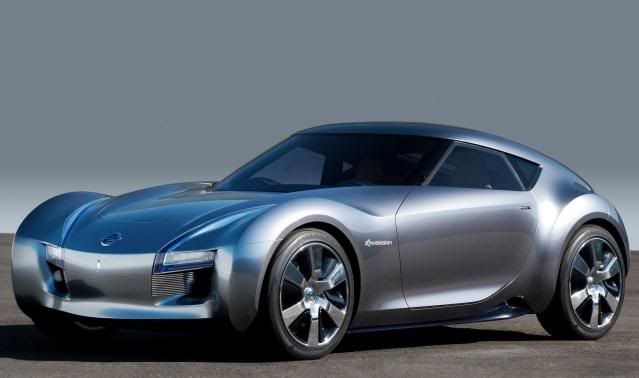 The seats themselves are upholstered in gold leather and perforated gold suede while the doors are trimmed in dark blue leather and suede. The blue and gold motif, the colour of sparks, is continued across the dashboard, which is also adorned with silver carbon trim, and features four multifunction illuminated LCD displays.
The driver of the Esflow is called Daniel. Daniel, an Esflow owner, works in tech, but lives for the weekend. On Friday night after work, he gets behind the wheels of his Esflow which instantly links with his pocket PDA and determines the fastest route to his girlfriend's home. Finding street side parking is a synch as the Nissan Esflow Concept's compact dimensions allow it to slip in to the narrowest of spaces. On Saturday he drives to a popular club to exhibit his DJ skills and his friends are impressed by his cool EV sports car.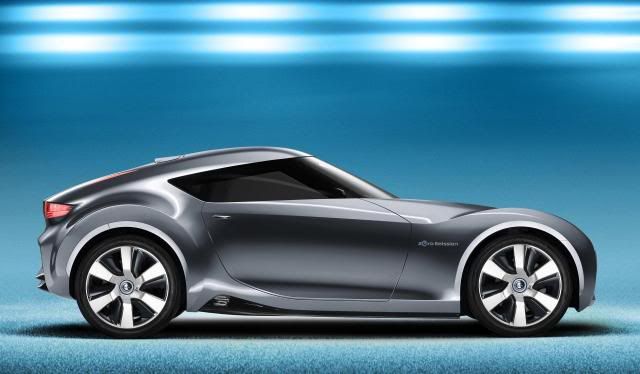 On Sunday he drives through the mountains for leisure. Esflow's superb weight distribution and unobstructed view ahead enables him to effortlessly nail every apex, every time. His descent from the mountains is more relaxed and he allows the Esflow to overrun on the long sweeping curves, turning the potential energy he and the car gained climbing up the gradients back in to electrical energy he can use once he hits the roads around Barcelona.
As his Esflow sips energy in its garage Daniel prepares himself for the week ahead, batteries fully recharged.