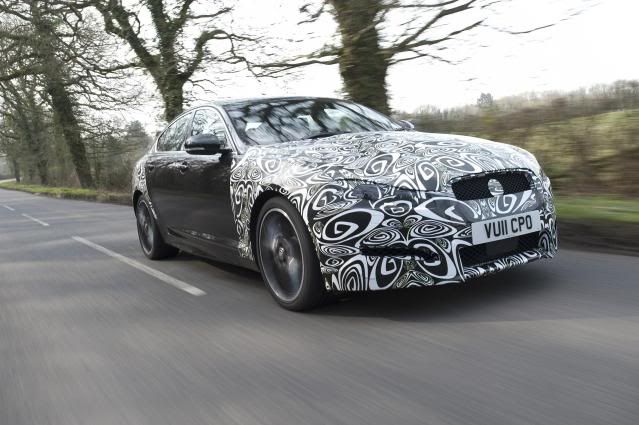 The 2012 Jaguar XF facelift is still undergoing
development
Jaguar will launch the facelifted
XF
with a PSA-sourced 2.2D diesel engine that will place the newcomer in the heartland of mid-sized executive diesel cars, like the BMW 520d. We've been told that Jaguar was very reluctant to give the
XF
a 4-cylinder diesel.
The new diesel unit develops 187bhp (190PS/140kW) and 450Nm (332lb-ft) of torque, while returning 52.3mpg (5.4l/100km) and emitting 149g/km. The fuel economy and lower emissions are helped by an intelligent stop/start system.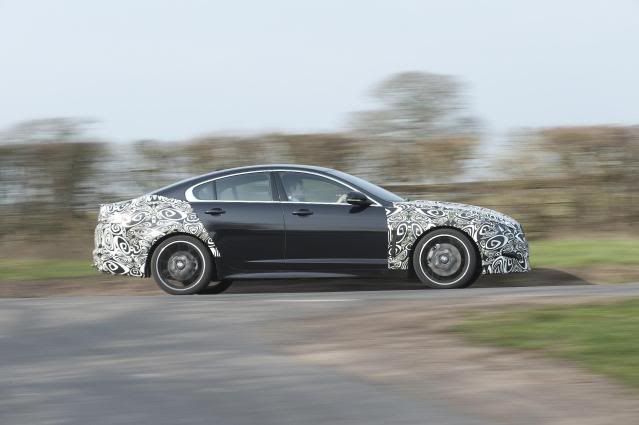 According to auto journo's, the engineers
have yet to finished with the chassis,
which already offers bags of fun
Along with a new engine, the development vehicle debuts an advanced 8 speed ZF automatic gearbox. With the seventh and eight ratios effectively acting as overdrive gears, the new gearbox allows the 2.2D to be optimised to deliver swift responses when required and effortless motorway cruising ability to ensure the ideal balance between efficiency and performance. The sprint to 62mph (100km/h) takes 8.5 seconds before achieving a maximum speed of 140mph (225km/h).
The new powertrain will feature in a future
XF
production car with specifications and an estimated on-sale date being announced at the New York motorshow. European sales start in April with prices starting from £30,500.